Shawnee resident joins admissions staff
Central Methodist University's College of Graduate and Extended Studies admissions department recently welcomed a new member to its team.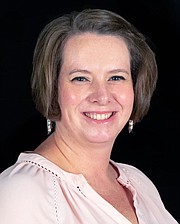 Annie Barber, of Shawnee, who also attended Central, is the new admissions/registration assistant.
In her role, she processes incoming transcripts and files pre-transcript coursework.
Her professional background includes being an employee and assistant manager at Casey's General Store in Kansas City, Overland Park, and then Fayette, before becoming part of the kitchen staff for Fresh Ideas in Columbia.
"Annie brings a wealth of relatable data-entry and customer service experience to CMU, and I'm thrilled to bring her on-board with our team," Sage said. "Her work ethic and eye for detail will serve her well in her role here."