Shawnee teenager excels at national history bee
"Usually history hinges on the tiniest of events. That's what makes it so interesting."
It's a thoughtful sentiment for a 13-year-old, but it's the response Colton Martin gives when asked about his favorite school subject.
The quiet Shawnee youth often holes himself in his room reading massive non-fiction books about every aspect of history, from the Napoleonic era to 18th century China.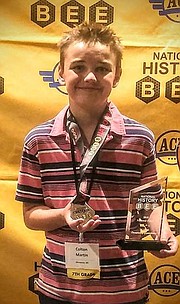 And earlier this summer, Colton put his skills to the test on a national level.
After placing second in the regional history bee, he competed against the best and brightest middle-school students from around the country during the National History Bee in late May in Atlanta.
While there, he made it to the first round of the quarterfinals, eventually ranking 72 out of 450 competitors.
"He made it to the top of the country," said his dad, Beau Martin. "We're very proud. It's pretty dang cool."
While Colton is a history whiz, he admits the experience was intense.
The lightning round portion of the bee took place on the 14th floor of a skyscraper during a dark thunderstorm.
While heavy winds wailed and lightning struck outside, Colton sat in a room with the judges, answering complicated questions about everything from presidential history to government.
He told the Dispatch he whizzed through questions about military history but eventually, it was a Supreme Court question that threw him off.
He had so much fun during the competition, he's already striving to make nationals again next year.
His dad thinks he could eventually win the entire bee.
Martin pointed out his son has been passionate about history most of his life. As a toddler, Colton enjoyed visiting museums and watching historical documentaries.
It wasn't until elementary school, however, that his interest in history grew much deeper.
His 10-year-old brother Bennett's eyes always widen when he sees the impressive history books on Colton's bookshelf.
"I'm always learning something new from him," Bennett said. "I think he could already be a middle school teacher."
Colton, who will soon be in eighth grade at Mill Creek Middle School, said his favorite historical time periods include the Victorian era and American history from World War I to World War II.
"The Victorian era was when our modern era was born," he said. "Europe was basically spreading its tentacles across the world and the industrial revolution was born. And from World War I to World War II, there was a lot of change."
He often shares what he learns with his family.
"When Colton tells a story about history, he tells it like he's read a good book," Martin said. "It's never a boring story. It's a whole narrative."
In fact, his dad added, the family affectionately calls him "the professor."
It's a fitting title for the intelligent youth who dreams of one day actually being a college history professor.
But for now, he wants to focus on the present.
Both literally and historically.
"I struggle with modern history, from 1950 to present," he said.
He plans to read more books about it this year.