Kobach stirs up controversy during Old Shawnee Days parade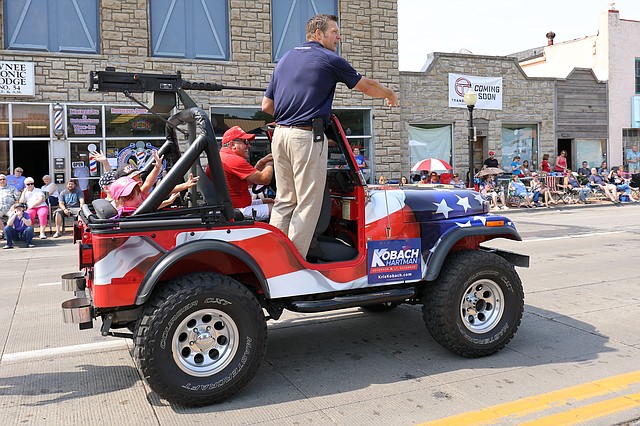 Kansas Secretary of State Kris Kobach triggered national headlines this weekend with his Old Shawnee Days parade float, which featured a large replica gun mounted to the back.
The Republican candidate for governor was greeted with applause and a few cheers on June 2 in front of Shawnee City Hall, but several other paradegoers throughout the route were upset by the display, which they felt was insensitive during an era when school shootings are quickly becoming the norm.
Photos and tweets about the float stormed social media.
"This was the scene from this morning during the Old Settler's Day parade Sec of State/Gubernatorial candidate #KrisKobach was in the parade in a souped up Jeep with a replica gun," one person tweeted, with a photo of Kobach during the parade. "On a day when thousands are dressed in orange to plea for an end to gun violence."
Others directed their comments straight to Kobach.
"You are clueless using a machine gun in a parade that appeals to families," another person tweeted him. "Children are scared to go to school and you cram this scene in their faces. I will do everything in my power to make sure you never set foot in the Governor's office."
Several hours after the news broke locally, the city of Shawnee released a statement regarding the incident.
"We want to apologize for the concern and frustration involved with Mr. Kris Kobach's parade entry at the Old Shawnee Days Parade on Saturday, June 2, 2018," it stated. "In no way does this or any parade entry or float directly reflect the views and values of the City, the Old Shawnee Days Board or the Old Shawnee Days Society."
The city also said it reached out to Kobach's media contact to get answers.
"Please know that the safety of our residents is always our highest priority and we apologize if this made anyone feel unsafe or unsettled," it stated. "We will be taking steps in the future to try to ensure something similar does not happen again."
The replica Kobach displayed in his float appears to be a nonfunctioning Browning M2 .50-caliber machine gun, according to Greg Langner, the general manager and gunsmith for Tactical Advantage LLC in Overland Park.
Langner, who has more than a decade of experience in shooting sports, told the Dispatch's reporting partner Mike Frizzell of Operation 100 News that the Browning M2 has been used by the United States military since World War II. It is a belt-fed firearm that is typically mounted to vehicles, or set up in fixed fighting positions.
"I can confirm that this is a nonfunctioning replica most likely manufactured by MAC Systems," he said. "The data plate on the right side of the replica is incorrect for a real one, the ejection port is too small to be functional and the profile of the barrel is incorrect and does not match a real one ... The MAC Systems replicas are manufactured as replicas and are not made from deactivated parts. There is absolutely no way to make one function in its finished form."
Despite the controversy the politician ignited during the parade, Kobach's spirits remained high throughout the day.
After the parade, he tweeted, "Had a blast riding in the Old Shawnee Days Parade in this souped up jeep with a replica gun. Those who want to restrict the right to keep and bear arms are deeply misguided. The only thing that stops a bad guy with a gun is a good guy with a gun."
— Mike Frizzell of Operation 100 News contributed to this report.
More like this story