Shawnee City Council approves policy change to allow for remote participation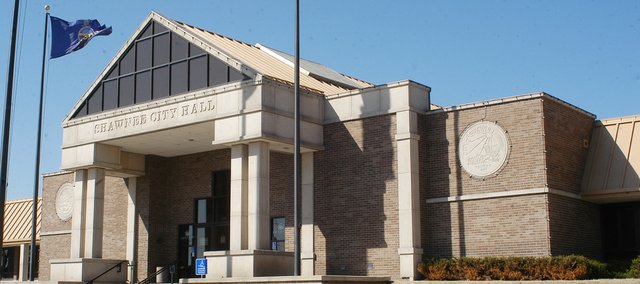 Shawnee city councilmembers will now be able to vote or give their two cents during city meetings no matter their physical location, whether it be across the country for a business trip or home sick in bed.
At its council meeting on May 28, the governing body unanimously approved policy revisions to allow council members to participate remotely in city meetings, should they be otherwise unable to attend in person.
Each council member will be allowed to remotely attend a maximum of two meetings, including executive sessions, using an internet program like Google Hangouts, so they can be seen and heard by the mayor or council president and be recognized when they want to speak.
The two-meeting rule will not apply to special call meetings.
The revised policy also includes the following provisions:
A physical quorum must be present (five member of the governing body for city council and four members of the city council for council committees).

The meeting chair must be physically present.

Remote participation is not available for retreats, off-site meetings, or tours due to the inability to guarantee connectivity.

Councilmembers must give 24-hour notice to the mayor and city manager or designee.

The Chair can excuse a remote participant, or end the participant's call, if there are delays lasting more than five minutes or if it interferes with the meeting.
Several councilmembers agreed the policy revisions were fair.
Councilman Jim Neighbor said he believes all members of the governing body take their responsibility to serve seriously, and being able to participate in meetings remotely is a way for them to stay involved under potentially tough circumstances.
"...I take this very seriously," he said. "I would not look at this to give me an out to extend my vacation. It is there to use if you need it."
But one Shawnee resident in attendance at the meeting disagreed.
Ray Erlichman told the council he didn't think the policy amendment was a good idea.
He pointed out that on internet programs, such as Google Hangouts or Skype, it is impossible for people to know what's really happening on the other side of the camera.
"What's to prevent the remote person from not getting feedback from somebody else not on the council?" he asked. "At least when you guys are up here, we can see what you're doing. You don't know what's going on when that person is not in the room."
"I think you're going to open up a can of worms with remote access. I think you'd be making a mistake."
At the meeting, the council also took the following action:
Council approves sidewalk to Erfurt Park
Two years ago, an 11-year-old girl stood before the governing body and encouraged the city to install a sidewalk on 71st Street towards Erfurt Park.
Now, that idea is coming to fruition.
The council unanimously approved adding the project to its six-year 2019-2024 Capital Improvement Plan, which it also passed the same night.
The cost of installing the sidewalk will be $421,500; it will be constructed next year to the north section of the street with a crosswalk across 71st Street at the park's entrance.
City staff informed the council if only sidewalks were installed and 71st Street is ever improved, the sidewalks would have to be torn out and reinstalled.
Another option the council had considered would have been for the city to improve 71st Street in addition to the sidewalk next year, but that project was estimated to cost $7.75 million.
"We built Erfurt Park a few years ago and didn't really build any access on foot," said councilwoman Stephanie Meyer. "I think it should be a good policy going forward that if we build new park space, we build some accessibility for the neighborhood to walk over to it."
The council also approved adding $300,000 per year to the CIP for additional sidewalk improvements throughout the city, with construction to begin in 2020.
Other projects in the CIP include a signal at 71st and Pflumm to cost $333,000; a sidewalk infill project to cost $4.75 million and Shawnee Mission Parkway and Hilltop Pedestrian Improvements to cost $110,000.