SMN

alumna Hannah Redick,

SMNW

product Emily Wells humbled to be a part of Mo-Kan Softball Series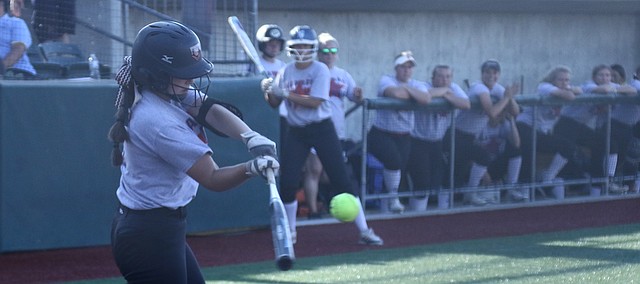 Throughout her softball and basketball career at Shawnee Mission North, Hannah Redick was never one to say much to draw attention to herself, but was still turned heads often with her power at the plate, performance in the circle or her 3-point shooting stroke.
A common trait that Redick showed on the diamond and the court was her toughness. In her last time wearing an SM North batting helmet, Redick's toughness was on display again during the Mo-Kan Softball All-Stars Series on Monday at the Shawnee Mission Softball Complex.
"It was an honor just to know that other coaches saw the work that I put in through the past four years," Redick said.
After the Missouri All-Stars edged the Kansas All-Stars, 4-3, in Game 1 of the best-of-three series, Redick didn't need to swing the bat to spark a seventh-inning rally for Kansas in Game 2. Redick was hit by a pitch to lead off the seventh, and calmly brushed it off before taking her base. Kansas ended up loading the bases with no outs to set the stage for Blue Valley West product Emma Ryan to drive in Redick with a walk-off RBI single — which sealed a 6-5 victory.
"That was cool," Redick said. "It was good to get that win."
The momentum carried over into the winner-take-all Game 3 with the Kansas All-Stars scoring three runs in the first and five in the second for an 8-0 victory. Game 3 was shortened to two innings because the lights in the stadium had to be turned off by 10 p.m. due to a city ordinance.
Redick also had a single in Game 2, which also saw her start at first base. The SM North alumna came in as a defensive replacement in Game 1.
"It was cool," Redick said. "I liked being able to play with people I played against for four years and get to see them in a different way."
Redick was one of two Shawnee area players to suit up for the Kansas All-Stars, but was the only one to play. Shawnee Mission Northwest alumna Emily Wells was also on the Kansas squad, but did not play due to an injury. Wells will remain sidelined for a couple more weeks in order to allow time for a few stitches to heal. Although Wells wished she could have played, she was humbled to be selected for the team.
"It means that a lot of my hard work paid off," Wells said. "I really just tried to play for my team and it's awesome that I got recognized."
As Wells' road to recovery continues, she's also counting down the days until she'll be launching her collegiate career at Cloud County Community College. Redick also plans to play softball at the next level, but is still mulling over her offers.
"I'm really excited just to see new people, face a new level of competition," Wells said. "It's just going to be all new stuff and it's going to be really fun."
The Kansas All-Stars nearly rallied from a 4-0 deficit to win Game 1. Blue Springs alumna Payton Minnis put Missouri on the board with an RBI infield single in the third. Missouri extended the lead to 4-0 in a three-run fourth — which was highlighted by an RBI double from former Lee's Summit West Makenzie McAtee and RBI single from ex-Staley star Lauren Lauvetz.
Kansas had its chances in the middle innings with runners on the corners in the third and fifth, but wasn't able to hang a crooked number on the scoreboard. The Kansas All-Stars eventually broke through in the sixth with RBI singles from Ryan and Olathe Northwest alumna Shayna Espy. Kansas also scored a run on an error, but had the would-be tying run thrown out at the plate.
In Game 2, Blue Springs South product Haley Woolf hit an RBI double in the gap to give Missouri a 1-0 lead in the first. Missouri added another run in the top of the second, but Kansas answered with a run on an error in the home half of the frame.
McAtee continued to swing a hot bat in Game 2 and gave Missouri a 3-1 lead with an RBI single in the third. Kansas didn't waste any time in tying it up, though, as former Olathe North standout Hannah Schmidt ripped a two-run single in the bottom of the third.
The Staley alumnae combo of Lauvetz and Missouri MVP Lou Gilbert gave the lead right back to Missouri in the top of the fourth. Gilbert started things off with an RBI infield single, and Lauvetz made it 5-3 with an RBI double.
Tonganoxie product Delainey Fenoglio gave Kansas an emphatic answer in the bottom of the fourth by blasting a two-run shot to deep center to tie it at 5-5. Fenoglio also highlighted the Game 3 win for Kansas with a bases-clearing double in the second inning.
Jordan Johnson — a former Paola standout — got the win in the circle after pitching three scoreless innings in relief, and earned MVP honors for the Kansas All-Stars.
More like this story