Western Shawnee music center aims to help new musicians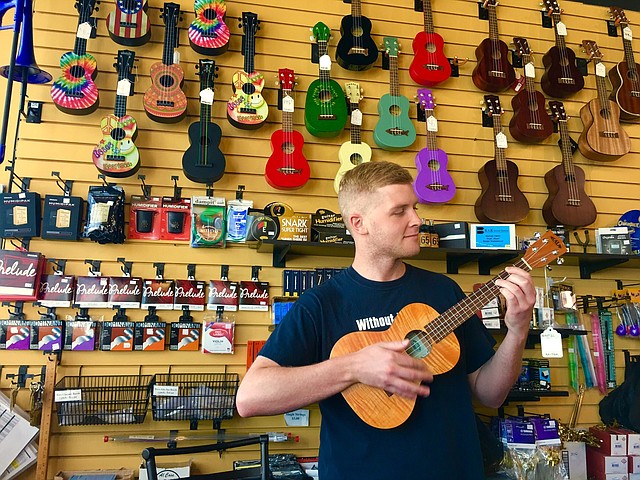 Renting an instrument for school for the first time can be a bit stressful, but one Shawnee music store strives to make it fun.
Blues to Bach music center, 22366 W. 66th St., has been a staple in the community for more than a decade.
Two years ago, Overland Park couple Jeff and Nancy Wilson purchased the business, eager to instill their passion for music in others.
"We are the hometown music store for western Shawnee," said Jeff Wilson. "Our atmosphere is unique because we're not just a music store; we focus on beginning musicians, whether you're a kid or adult. Every instrument is high quality, but priced for beginners. We want to be the place where you get started in music."
After all, navigating the instrument scene is daunting if you're stepping into it for the first time, he pointed out.
"Most of the parents coming to us aren't experts, which is completely understandable," he said. "They don't know the difference between a good guitar and a bad guitar. We help take the guesswork out of the decision."
Band and orchestra instrument rentals are the biggest aspect of Blues to Bach. The center also sells instruments and offers a variety of music lessons for youth and adults.
This June, the family-friendly center is offering instrument petting zoos, from 2-4 p.m. on Fridays and Saturdays.
The popular event allows kids to get their hands on typical beginning band instruments, to try them out for weight, size and sound.
"We want kids to come in with their mom and dad and hold an instrument, use it," Wilson said. "It's important for kids to get started on the right foot."
Plus, parents will find it nice to beat the back-to-school rush, he added.
"It's very hectic when school starts," he said. "This allows kids to take their time and it gives them a head start. It exposes them to an instrument and lets them have fun."
The center also offers beginner's lessons for specific instruments. The one-time sessions teach how to put the instrument together, how to hold the instrument, make your first sounds, daily care needs and proper storage of the instrument.
For more information about the instrument petting zoo, beginner's classes or about the center in general, please visit bluestobach.com or visit them on Facebook at facebook.com/bluestobach.