'Somebody had to do something:' Shawnee residents volunteer in Puerto Rico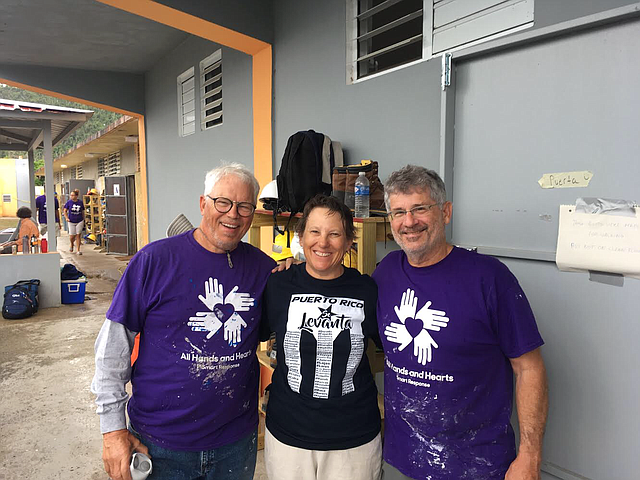 Nine months after it wreaked devastation on Puerto Rico and Dominica, Hurricane Maria is still making headlines around the world.
Earlier this month, a Harvard University study published in the prestigious New England Journal of Medicine estimates 4,645 deaths can be linked to the hurricane and its immediate aftermath, making it much deadlier than the catastrophic Hurricane Katrina, which hit New Orleans in 2005.
The Puerto Rico Department of Health also released data showing an additional 1,400 deaths on the island in the months after the hurricane, as compared with statistics from the previous year.
The official death toll, however, was released at 64.
The unclarity of the numbers is just the tip of the iceberg when it comes to the chaos that ensued upon Hurricane Maria's arrival.
Nearly a year after the deadly storm ravaged Puerto Rico, the island is still in tatters.
When Shawnee residents David Williams and Jon Augustine heard about the hurricane's impact, they were saddened.
When they read and saw reports that U.S. financial assistance and manpower was lacking, the men decided to take action.
"Puerto Rico wasn't getting a fair shake," Augustine said. "I looked at the amount of money spent in Houston (from Hurricane Harvey) and then the amount spent in Puerto Rico and it became very obvious we weren't doing all we could for them. Puerto Rico isn't a state, so that kind of makes it a red-headed stepchild and it's apparent not many people care.
"It's not right. Puerto Rico is still an island inhabited by Americans. Somebody had to do something."
To do their part, the Xerox retirees joined All Hands and Hearts, a nonprofit organization which sends volunteers to help in communities around the world impacted by natural disaster.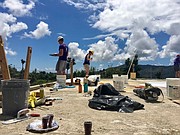 Earlier this spring, the men were placed on volunteer teams in Yabucoa, Puerto Rico, which is regarded as ground zero for Hurricane Maria.
The scene in San Juan appeared fairly normal, they agreed, but as soon as they got five miles out into the country, the scene was jaw-dropping.
Normally a lush landscape, scattered trees barren of leaves and in many parts, a sea of white tree trunks, greeted them instead.
There were fallen traffic lights, with wires swept into the street; broken wind turbines with blades ripped right off.
Augustine and Williams, along with other volunteers, were housed in an abandoned, cleaned-up school building.
Complimentary flights
All Hands and Hearts is no longer offering complimentary round-trip flights for its program in Puerto Rico, but it says families in USVI, Texas and Mexico still very much need help. If you volunteer with the organization for two weeks in any of these locations, it will offer you a complimentary round-trip flight from participating airports in the United States.
Their duties included roofing, performing mold sanitization and minor repair work, such as fixing windows and doors, muck and gut and clearing fallen trees and debris.
Most of the residents they helped were elderly.
Most of the people in the small village were still trying to survive without running water or electricity.
To thank volunteers for their hard work, the villagers fed them meals, such as fish, rice, beans and vegetables.
"As we drove down the road, people were smiling at us and giving us thumbs up," Williams said. "Everyone was warm and inviting."
And while the intense nine-hour work day schedule for two weeks was strenuous, the two friends managed to sneak in a couple adventures during their trip, such as riding into town on a two-seated bicycle and chatting with locals at a nearby cafe.
They also enjoyed getting to know the other volunteers, many who were young and from around the world.
"That was cool, seeing these kids basically putting their lives on hold so they could help strangers," Williams said. "They were so eager to help."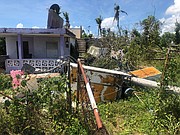 Both men are glad to be home now, but they are open to volunteering in Puerto Rico again, if possible.
"It's exhausting for a couple 60-something-year-old guys," Williams said. "I'm still recovering. But I'd like to go back."
They also want to encourage more people to volunteer out there, as there is still a need and will continue to be a need for a long time.
"It was a great experience and I recommend it to anybody who isn't embarrassed to do hard work," Augustine said. "It's life-changing."
Seeing the devastation in person was eye-opening, he added. He hopes the mistakes made in Puerto Rico teach a valuable lesson to those today.
"We need to treat these people humanely," he said. "We wouldn't turn our backs on people even in the worst part of Kansas City, so why did we do that to Puerto Rico?"
To learn more about volunteer opportunities with the nonprofit organization All Hands and Hearts, or to make a donation, please visit allhandsandhearts.org.
More like this story