Three Shawnee area players,
SMNW

coach help Kansas All-Stars to 6-2 win in

KCMBCA

All-Star Game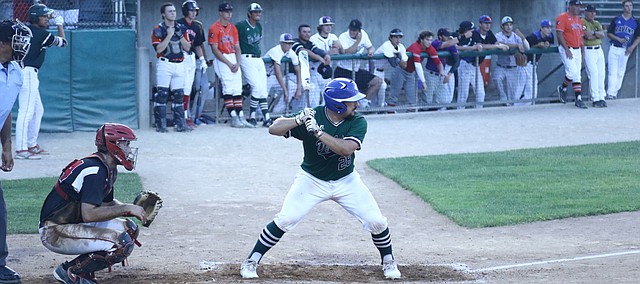 LENEXA — De Soto alumni Conner Mackay and Tony Slaughter, Shawnee Mission Northwest product George Specht and Cougars baseball coach Domenic Mussat were a part of the Kansas All-Star team that won the Kansas City Metro Baseball Coaches Association All-Star Game, 6-2, on Monday at the 3&2 East Baseball Complex.
While Specht — a Cowley County Community College signee — was unable to take the mound after throwing 90 pitches in a summer ball game the other day, he came on as a pinch-runner and scored on a two-RBI single by former Bishop Miege standout Carter Putz in a four-run fourth inning for the Kansas All-Stars. Specht struck out in his lone at-bat.
Mussat cherished the chance to coach Specht one last time, and it presented him a unique opportunity to get to know some of the players he's tried to game plan against over the past few years.
"You don't get to know them on a personal level when you're coaching against them, but when you get to come out here like this and just sit and talk with them a little bit you can be a little bit more personable with them and find out a little bit more about them and make that extra connection," Mussat said. "It's a lot of fun."
The players came away with the same type of experience as Mussat and the other coaches. Slaughter got the start behind the plate and got to catch for former Olathe South star John Moll and Blue Valley Northwest products Scott Duensing and Max Abramovich.
"It was definitely interesting because you get a different perspective when you're playing with them than against them," Slaughter, who went 0-for-2 at the plate, said. "Some people you don't end up thinking you're going to be friends with and you end up having a good relationship after that. That's a lot of fun."
Slaughter and Mackay have developed a mutual competitive with scheming how to get batters out. While Mackay didn't pitch in the Kansas City Metro Coaches Association All-Star Game, he tossed a one-two-three inning in the Kansas Association of Baseball Coaches All-Star Game on Wednesday at KU's Hoglund Ballpark. Mackay shared some of the same sentiments as Slaughter about his experience in the two games.
"Every game I go into, I have a competitive mentality and I don't like them. Then I got to know them and these guys are actually like really cool," Mackay said. "I actually keep in touch with like three of them now because of it. It's actually really cool. Like what he (Slaughter) said about perspective, your enemies all of a sudden turn to friendships and you just keep up with each other in college."
Just like Specht, Slaughter and Mackay will take their talents to the community college level. Slaughter will stay close to home and play at Johnson County Community College, while Mackay will head to Iowa Western. Mackay is joining a Reivers program that finished sixth at the NJCAA World Series this past season. Slaughter would love nothing more than to cross paths with Mackay next year in the World Series.
"I hope I see Conner in Grand Junction," Slaughter said.