New staffing agency puts Shawnee community to work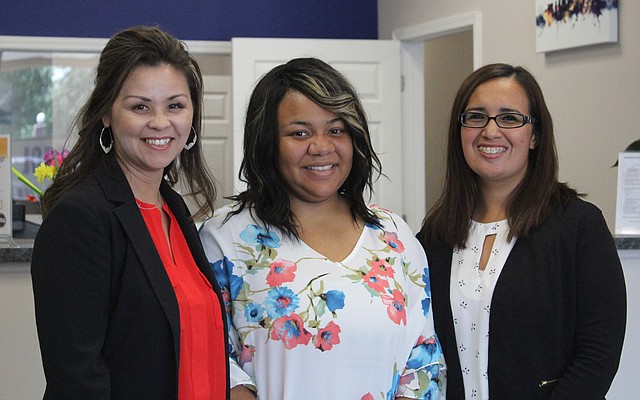 Ever since Alliance Workforce opened its Shawnee branch in January, it has helped numerous people in the community find reliable jobs.
From teenagers looking for part-time work to single moms looking for full-time careers, a steady stream of job-seeking people have been matched to reputable employers thanks to the Shawnee location, which is located at 11218 West 75th Street.
The agency focuses on direct hire, temp-to-hire and special project positions for a wide range of fields, from factory assembly to customer service to janitorial.
Alliance Workforce also has branches in Olathe, Kansas City, Mo. and Kansas City, Kan., with Shawnee being its fifth and newest one.
Alliance Workforce opened its latest branch in Shawnee near 75th Street and Nieman Road because it recognized a demographic in the area in need of jobs.
Plus, it allows the agency to come back to its roots.
Two of the company's co-owners, Johanna Zatar and Tony Semaan, met in Shawnee more than 20 years ago.
In 1996, Semaan owned the Tomahawk Car Wash on 75th Street and Nieman Road where Zatar was a teenage employee.
The two started a staffing business out of an office at the car wash and in 2000, Alliance Workforce was founded.
Zatar, a Shawnee resident, said it's good to be back where it all started.
"We were excited to come here," she said. "This by far was my favorite location to open. Not just because it's close to home, but because it's good to see people I know from the community."
Alliance Workforce currently has 18 full-time staff members between its five offices; it employs between 400 and 500 people each year.
The company's success is directly attributed to its team of professionals who take pride in their work, said Zatar, who is also the company president.
"Our recruiters listen; they're looking for the jobs that will make people successful," she told the Dispatch. "They're not just trying to throw people in any job to fill it. They're trying to match people with something that will be a long-term solution."
Plus, the company does extensive follow-ups with each matched job, to make sure both employer and employee are happy.
In addition to its job-seeking services, Alliance Workshop also focuses on preparing people in the community for the workforce.
It often teams up with nonprofits to teach resume-building, conduct mock interviews and offer "Dress for Success" workshops, plus give insight on how to successfully job search.
After all, Zatar said, everyone has potential to leave the unemployment ranks behind. It just takes a little help.
To learn more about Alliance Workforce, visit allianceworkforcekc.com.