Shawnee-area football players propel Kansas All-Stars to 30-0 win in
GKCFCA

All-Star Game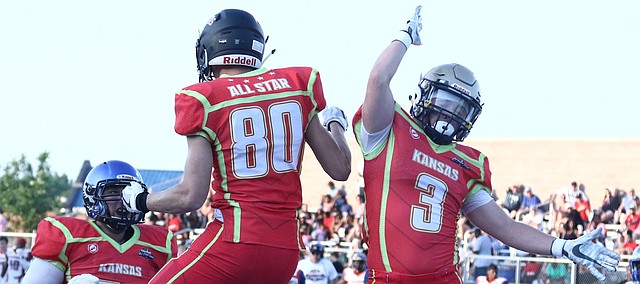 LEAVENWORTH — Over the past two years under center for Mill Valley, Jaguar alumnus Brody Flaming showed a knack for being able to make something out of nothing when a play would break down.
Flaming found himself in that situation again in the fourth quarter of the Greater Kansas City Football Coaches Association All-Star Game on Thursday, but despite being under pressure, he was able to find rival-turned-teammate Joseph Clune — a St. Thomas Aquinas product — for a 41-yard touchdown pass. The connection from Flaming to Clune capped a 30-0 win for the Kansas All-Stars, and snapped a seven-game losing streak to the Show-Me State squad.
"It was awesome. I was running for my life for a second there and all I see is this big ol' dude jumping up and down and I knew it was Joe," Flaming said. "I just closed my eyes and threw it."
While none of the Kansas and Missouri players had previously suited up for the GKCFCA All-Star Game with it being a showdown of some of the top graduating seniors in the metro area, the Kansas All-Stars not only felt they had some pride to play for, but a point to prove after they heard some smack talk from the Missouri All-Stars leading up to Thursday's matchup.
"It felt good because even in an interview, Missouri said they were going to blow us out just like the last seven years. It felt good to get them back," Mill Valley alumnus Ike Valencia said.
Valencia recorded two tackles to help the Kansas All-Stars post the shutout. The former Mill Valley defensive lineman joined Flaming and one of his top targets, Evan Rice, in representing the Jaguars one last time. While Flaming will continue his football career at Baker, the GKCFCA All-Star Game marked the end of Valencia and Rice's time on the gridiron. Rice will study marketing and business at Kansas State, while Valencia will major in criminal justice.
"I'm excited for that. It's going to be a good change of pace in my life," Rice said. "I'm going to go and work my butt off in school now. I'm excited for the next four years."
The All-Star Game served as a little bit of transition for Flaming, who cherished the final game with Rice and Valencia and became more excited for the years to come at Baker with De Soto product Trevor Watts, Olathe East graduates TyJuan Lewis and Camron Mitchell-Johnson, Free State alumnus Gage Foster and former Aquinas standout Drew Hicks. Flaming earned MVP honors for the Kansas All-Stars after completing three of his four passes for 66 yards and two touchdowns. The Baker signee also added six carries for 21 yards.
"It's been an honor to play one more game with them. I've been playing with Evan since I was 9 or 10 years old and I've been playing with Ike for a long time and it's just been great," Flaming said. "It's been great to make a bunch of friends. I know I've got some life-long friendships that I've made playing this game."
Flaming added of preparing for Baker, "We've been starting workouts and we drive up together every day. We've been getting to know each other really well. This has just kind of made us even closer to see what we can really do on the field. It's been great."
The other touchdown pass that Flaming threw was a 14-yard strike to Shawnee Mission Northwest alumnus Hayden Goodpaster in the second quarter that pushed Kansas' lead to 16-0. The Kansas All-Stars scored on defensive and special teams before Flaming's touchdown pass to Goodpaster. Foster put Kansas on the board with a safety, and Olathe South product Jamison Phelps found the end zone on the ensuing short kickoff.
"It means a lot even just to be able to play on this team. It means a lot to me, my family and my teammates," Goodpaster said. "To be able to score in a game like this with the best in the state on me, it really means a lot. I'm really happy that I got a chance to go out there and represent my school and my state."
Just like Flaming, Goodpaster had a handful of future teammates on the Kansas squad. Fellow SM Northwest alumnus Travis Morrison had a 1.5 sacks and will walk on for the Emporia State football team and also join Goodpaster on the Hornets' track and field squad. The former SM Northwest tandem will be joined at ESU by St. James alumnus Jack Petz, De Soto product Jack Barger and Free State graduate David Johnson.
"You get a quick glimpse of how it's going to be at Emporia State," Petz, who led the Kansas All-Stars with eight carries for 45 yards, said. "Out here everyone showed up to play. I don't know if ESU is going to be ready for us."
One of the highlights for Petz in the GKCFCA All-Star Game was being able to run behind the blocking of St. James product Parker Kelley, who will continue his career at Fort Hays State.
"That's means a lot, too. Parker and I, we've been playing side by side for four years," Petz said. "He's been my right-hand man blocking wise. For him to be out there doing it one more time felt really good."
Petz was able to fit right into the option attacks while Aquinas product Will Swanson and De Soto alumnus Bryce Mohl were running the offense. Mohl ended up scoring on a 2-yard run to extend Kansas' lead to 23-0 in the third quarter.
The De Soto alumnus was one of four former Wildcats on the Kansas squad, as Mohl was joined by Watts, Barger and Hutchinson Community College signee Zach Titus. Mark Gastelum also represented the Wildcats on the coaching staff.
"This was my last game suiting up ever," Mohl, who will study computer engineering at Kansas State, said. "It was super special to share it with them."
Before the game even started, Barger received a prestigious honor for his tenacity on the De Soto defense. Barger was the Kansas recipient of the Ronald Warren Award, which goes to the most outstanding linebacker in the state.
"It's a big honor," Barger, who made one tackle and had nine carries for 22 yards, said. "Recognition is earned by success on the field and I think my teammates and coaches had a huge hand in that. I'm very thankful for what they did for me."
As Barger, Titus and Watts begin the next chapter of their respective careers, they'll take the life lessons they've learned from Brian King and the De Soto coaching staff with them.
"De Soto has meant a lot to me," Watts, who had three carries for seven yards, said. "It's made me who I am and got me to this point. I love every coach that has helped me get here and I'm always going to be there."