A comeback 30 years in the making: Shawnee banker takes the stage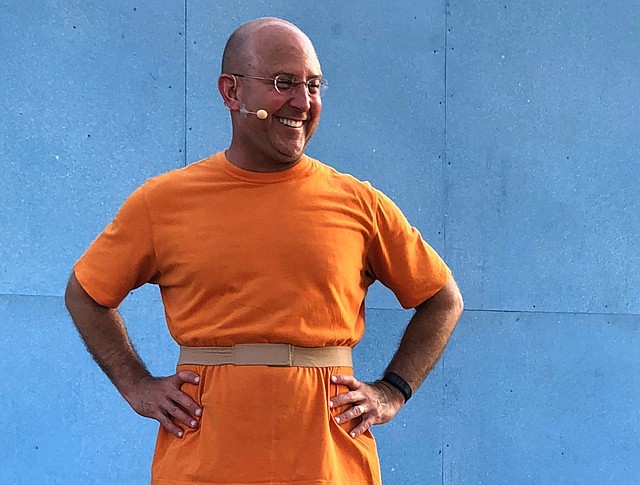 One Shawnee dad is proving it's never too late to pursue your passion.
As a high school senior in the late 1980s, Dave Kepper fell in love with theater and vowed one day, he would return to the stage.
But in the decades after graduation, life came first. He joined the United States Marine Corps, pursued a banking career, married the love of his life and became a father.
"In the back of my mind, I always knew I wanted to find my way back into theater," he said. "But life happens, you blink, and before you know it 30 years goes by."
This summer, however, his high school dream is coming true.
Kepper was recently cast as Commander William Harbison in the Theatre in the Park musical "South Pacific," which opens Friday.
The Tony Award-winning musical, set in an island paradise during World War II, focuses on two parallel love stories threatened by the dangers of prejudice and war.
Kepper's involvement in the musical happened by chance.
Earlier this year, he took acting refresher courses with Andy Garrison, the owner of Actor Training Studio.
But it wasn't until a friend of his, who is the dance choreographer for the show, suggested he audition, that he took the plunge.
When he got the role, he was ecstatic.
As someone who thrives at public speaking, Kepper is drawn to the storytelling and artistic expression of theater.
"It's bringing yourself to and melding yourself with a character, and being part of a story," he said. "In addition there is much personal and relational development that occurs during a production, both on and off the stage."
He's fascinated by the size of the Theatre in the Park production and how it all comes together, from start to finish.
"It's exciting to experience the process, the rough beginning, pulling the various components together into a united piece of work, continued polishing and refining, until you have a shiny, humming performance that audiences will love experiencing," Kepper told the Dispatch.
Plus, as the only veteran in the cast, he relates to the military aspect of the show.
"We're losing our World War II vets, so this is a way to honor them," said Kepper, who served in Desert Storm. "It's important to recognize their sacrifices and keep their stories alive."
As a professional, he can also relate to his role.
As the vice president of BMO Harris Bank, Kepper understands the importance of order, much like his character Harbison, who is a bit of a strict disciplinarian.
His favorite aspect of the show, however, is the friendship he has made with the other cast members.
"We've become a family throughout this process," he said. "There's something special about creating something of value together."
He's looking forward to his family, friends and coworkers coming to see him in action this weekend.
Of course, his biggest fans — his wife, Caryn, and 11-year-old daughter, Grace — will also be there to cheer him on.
He's hopeful "South Pacific" will be the first of many shows in his burgeoning community theater career.
For now though, he's just excited and grateful to be in a wonderful musical on the biggest summer stage in Johnson County.
Get your tickets
Theatre in the Park will present "South Pacific" at 8:30 p.m. on June 22, 23, 24, 27, 28, 29 and 30 at Shawnee Mission Park, 7710 Renner Road; gates open at 7 p.m.
For more information about the show, or to purchase tickets, please visit theatreinthepark.org.