Shawnee Mission audiologists help patients hear their best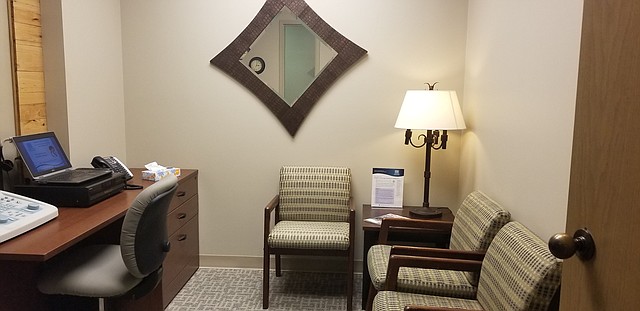 With a recently remodeled clinic and the latest technology on the market, Lisa Battani, Au.D., FAAA, Audiologist and Hearing Aid Program Director, and Susan E. Smittkamp, Au.D., Ph.D., FAAA, Audiologist and Tinnitus and Sound Sensitivity Specialist, Associated Audiologists, Inc., are helping Shawnee area residents hear their best.
The Associated Audiologists Shawnee Mission Clinic opened on the campus of Shawnee Mission Medical Center in 2008, then relocated a few years later to the Antioch Hills Medical Building, 8800 W. 75th Street, Suite 101.
Dr. Battani and Dr. Smittkamp are part of the largest team of doctoral-level audiologists in the Midwest. Both audiologists are a Fellows of the American Academy of Audiology and are members of the American Speech-Language-Hearing Association and the Kansas Speech-Language-Hearing Association. Dr. Battani is active in the community through her participation in the Shawnee Mission Rotary, and Dr. Smittkamp recently joined the Shawnee Kiwanis Club.
The audiologists use advanced diagnostic and verification equipment to diagnose and treat hearing loss, offering digital hearing aid products from the world's most respected manufacturers, including all styles, models, and levels for any budget.
Dr. Battani's expertise is in hearing aid technology. Dr. Smittkamp also diagnoses and treats hearing loss, plus she diagnoses and manages difficult-to-treat tinnitus, or ringing in the ears. In fact, Associated Audiologists is the only practice in the area to use the newest FDA-approved treatments. Special services available at the clinic include:
Tinnitus evaluation and management options including: Levo, Neuromonics, Desyncra, Widex Zen and ReSound Relief Tinnitus options
Cerumen/wax removal
Hearing aids and accessories from manufacturers including: Widex, Phonak, ReSound, Starkey, Oticon and Westone
Hearing aid repairs including all major hearing aid manufacturers and all-make repairs for Costco hearing aids
Custom hearing protection for hunters, swimmers, musicians, motorsports and sleep
Custom ear impressions
The practice is contracted with most insurance providers and has dedicated staff who can help you explore your insurance benefits.
Dr. Battani and Dr. Smittkamp see patients Monday through Friday, 8 a.m. to 5 p.m. To read more about their backgrounds and experience visit hearingyourbest.com. Or, call 913-403-0018 to schedule an appointment.
More like this story