Shawnee man killed from injuries sustained in three-vehicle crash
A Shawnee man was one of two people killed in a three-vehicle crash early Thursday near the Wheeler Downtown Airport in Kansas City, Mo.
The Kansas City Police Department confirmed with the Dispatch that Tyler Fruehling, 31, died on Friday from injuries sustained during the fatal wreck.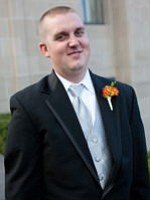 He initially had been taken to a hospital in critical condition.
A Kansas City police spokesman also confirmed Jack L. McHenry III, 42, of Kansas City, Mo. died on the scene.
An initial investigation revealed that a vehicle was disabled in the right line of northbound 169 Highway without its lights on. A silver vehicle was stopped ahead of it. Occupants were outside of their respective vehicles.
"The vehicles and pedestrians were struck by a northbound vehicle," stated a KCPD news release. "Two pedestrians were transported in critical condition and one died at the scene."
The Kansas City police confirmed with the Kansas City Star that the driver remained on scene after the crash.
A visitation for Fruehling will be held from 5 to 7 p.m. this evening at Amos Family Funeral Home with a memorial service to follow.
Fruehling was a graduate of Shawnee Mission Northwest High School where he was a three year letterman on the basketball team and Kansas City Kansas Community College where he continued his basketball career.
To see his obituary, please click here.