Thomas A. Soetaert Aquatic Center takes part in 'World's Largest Swimming Lesson'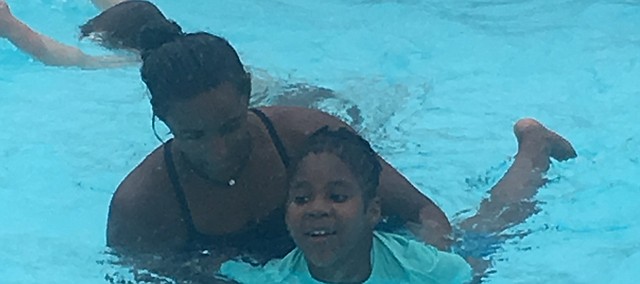 The abnormally low temperature and the light rain that fell on Thursday afternoon in Shawnee didn't make it feel like the first day of summer, but the damp and dreary conditioning didn't keep 26 children from enjoying a special swimming lesson at the Thomas A. Soetaert Aquatic Center.
Thursday's lesson was going to take place whether there was one or all 30 of the children who were pre- registered arrived. The lesson at the Thomas A. Soetaert Aquatic Center was one of several thousand that was put on Thursday as part of the World's Largest Swimming Lesson, which is a worldwide event organized by the Overland Park-based World Waterpark Association.
"All of the facilities participating today are following the exact same lesson, so that's why it's considered the exact same lesson," City of Shawnee aquatics specialist Sean Keenan explained to the children and the parents prior to the lesson.
While the event started in 2010, Thursday marked the first year that the Shawnee public pool participated. A record number of 41,068 children made a big splash in last year's World's Largest Swimming Lesson, as 600-plus pools across 26 different countries took part in the event. Keenan was excited about the turnout — especially considering the sub-par conditions — and he's excited for the youth of the Shawnee area to be a part of the event for years to come.
"There's two different records. There's the record for most lessons held at one time and then there's also the most lessons held at one facility — which is currently held by a facility in Florida and it's 1,300 lessons in an hour period," Keenan said. "That's insane. We're not shooting for that, but we definitely are going to be contributing and being a part of the larger number."
The World Waterpark Association hadn't released the official total number of participants from Thursday prior the Dispatch's print deadline, but breaking the record wasn't the focus of the lesson according to Keenan. Safety was the No. 1 priority throughout Thursday's lesson.
"The entire reason we are having this program is to bringing awareness of the importance of learning to swim at all age levels. In fact, one of our most popular programs is our adult learners swim program because we have a lot of individuals that have never learned how to swim," Keenan said. "Childhood drowning is the second highest rate of unintentional deaths, unfortunately, and it's just from individuals not knowing how to swim. It's easily prevented by getting to swim lessons and getting that program going."
After Keenan explained the details of the event and that the participants would be split up into groups based on age and experience, he briefly quizzed them on some of the basic safety tips of swimming. With whatever Keenan asked, the children were quick to chime in with correct answers.
"As far as calling out for help, what do you guys think is the best way to call out for help in a pool?" Keenan asked during the Q&A session.
"Help!" one child yelled.
Another kid added, "Just make it look you're drowning. Exaggerate it."
Keenan confirmed that the answers were right before going into further detail so that all of the children understood what to do if they or someone else they knew were drowning.
"Making a lot of splashing and a lot of activity and movement. A lot of times there are different types of victims," Keenan said. "When you're swimming in an environment, you have what we call a distressed swimmer and what we call an active swimmer. Distressed swimmers can call out for help, but they're very, very close to not being able to.
"Active swimmers are people that are actively drowning. Their head is back and their body is at a vertical angle and they're not able to call out for help. So we need to make sure we make a lot of splashing so that you can get somebody's attention."
The range of experience of the 26 participants varied, but there was a mutual excitement.
"I did good in the swimming," 7-year-old Ramla Mkindi said after the lesson concluded. "Today was my first lesson."
While Ramla and her younger brother, Rahim Mkindi, were soaking in a great deal of knowledge during the lesson, it definitely wasn't the first rodeo for 12-year-old Mark Pischke II.
"I used to do them (swimming lessons) and now I'm on the swim team," Pischke, who swims competitively for the Shawnee Sharks club team, said. "If you can swim well enough, you can eventually go on to the swim team. I went to about three or four years of swim lessons and I started when I was about age 3 or 4."
Even with Pischke being one of the more experienced swimmers at the lesson, he has still learned a lot about one of his favorite sports this summer.
"It's important because if you can't be safe, you can get hurt," Pischke said. "I'm a Boy Scout, so I know that kind of stuff. I did the lifesaving merit badge at camp this year."
Joining Mark at the lesson were his younger brothers. They echoed Mark's sentiments about being safe in and around the pool.
"My favorite part is that you get to have really nice people to teach you how to swim and you also have a bunch of nice coaches," 7-year-old Liam Pischke said. "That's really nice of them because if they didn't do that, then we wouldn't know how to swim."
The confidence that the instructors instilled in the Pischke brothers has reflected in their improving swimming abilities.
"It's fun because you can swim around the pool and impress people sometimes," 9-year-old Jack Pischke said.
Linda Pischke — the mother of Mark, Jack and Liam — has enjoyed watching her children and their peers polish their swimming skills through practices, meets and lessons. She also showed a lot of appreciation for those who have mentored her children.
"This is just a really great recreation center. They do a fabulous job here and everybody is always very nice," Linda Pischke said. "We're here every morning between 9 a.m. and noon this summer so far. They're doing meets and diving. It's a great place to be."
From June 4 to July 25, the City of Shawnee has 1,800 swim lessons scheduled between the Thomas A. Soetaert Aquatic Center and Jim Allen Aquatic Center.
A detailed time schedule is listed on the City of Shawnee website.
The instructors who have helped out with the lesson on Thursday and throughout the summer have enjoyed being able to come full circle after previously taking lessons when they were younger.
"I was a competitive swimmer my whole life," Olivia Adams, a St. James alumna, said. I started swimming with the city and then I moved on through high school, so it was just important to me to be able to teach other kids some of the skills that I learned in my swim lessons when I was younger because that's where my interest in swimming started so I was hoping to pass that on to other kids."
Adams has been a swim instructor for the past year. She reiterated a few of the safety pointers that Keenan went over before the lesson.
"My class on the first day, we always go over 'Hands on the wall, head above the water,'" Adams said. "I don't care if you know how to touch the bottom or if you can touch in the deepest part of the pool, your head needs to be above the water because if I turn around and don't see your head, I'm going to motion for a lifeguard to jump in because I'm going to think you're drowning."
Shawnee Mission Northwest alumna Anastasia Kling also assisted as an instructor for Thursday's lesson along with Adams and a handful of others. The progress that the children make over the course of a summer during lessons has been one of the most rewarding parts about being an instructor for Kling.
"I have been a swim instructor for three years. Seeing kids start on the first day and not wanting to put their head in and then ending lessons floating by themselves is really important to me because as Olivia said, kids drown just because they don't have basic swimming skills," Kling said. "It's not really that hard to learn. You just have to apply yourself."
More like this story