Shawnee City Council reveals traits, priorities it seeks in new city manager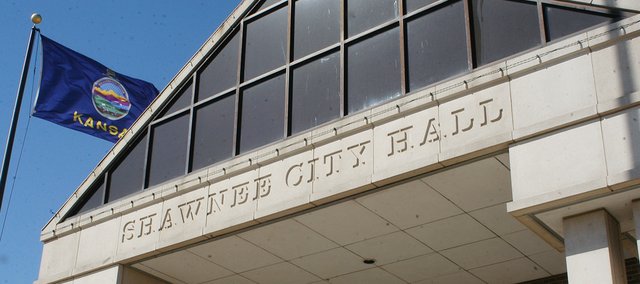 Experienced. Honest. Fair. Approachable.
Those are just a few adjectives Shawnee city council members used to describe their ideal candidate for a new city manager.
The governing body was given an opportunity to share their thoughts on the subject at the Feb. 26 council meeting.
Art Davis, senior vice president for the Minnesota-headquartered recruitment firm Springsted Waters, met with the council to begin the process of identifying attributes, skills, characteristics and expertise desired in a potential candidate.
Springsted Waters was recently contracted by the council to find suitable candidates for the open city manager position.
Former city manager Carol Gonzales resigned from the position last fall to take a job outside the city; deputy city manager Vicki Charlesworth is currently acting as interim until the position is permanently filled.
Over the next several weeks, council members will be working with Springsted Waters to put together a complete profile for the position, including a salary range.
Using guidance from the council, the company is also putting together a brochure for pursuing candidates.
When Davis asked the council what it was looking for in a desirable candidate, the governing body did not hold back.
Here is a glimpse at their thoughts:
Leadership traits
When it came to the management style and personal attributes they were seeking in a new city manager, the council knew exactly what it had in mind.
Councilwoman Stephanie Meyer told Davis her ideal candidate would be someone who is willing to shake things up by offering fresh ideas and a new perspective.
Councilman Justin Adrian agreed and added he wanted to see candidates who were approachable and willing to listen.
The council members, plus the mayor, agreed honesty, ability to work well with others and strong communication skills were vital characteristics as well.
Councilman Mickey Sandifer said the ideal candidate would be someone with "enough confidence to not micromanage trusted staff."
For Councilman Eric Jenkins, fairness was one of the most important traits he was seeking.
He'd like to see a new city manager who presented projects to the council objectively, with the positives and negatives clearly outlined.
"I feel like the city manager and the staff have an ethical obligation to inform the city council of the pluses and the minuses, not just cherry-picking for what a 'great deal this is' because that's something the city manager likes," he said. "I want to be able to make a good conscious decision based on the pluses and minuses."
Councilman Jim Neighbor said he was seeking a good-natured leader who could give consistent direction and who would trust staff to do its job.
Councilwoman Lindsey Constance agreed with many of her peers, adding she wanted a new city manager who could work amicably with a diverse group of people, problem-solve despite conflict and leverage the strength and expertise of city staff members.
Top priorities
Focusing on the city's economic development should be one of the new city manager's top priorities, agreed the council.
Councilman Matt Zimmerman said he thought the new city manager should be able to balance short term gains with long term impacts.
"I don't want someone who is going to get caught up in 'let's do this right now because it looks good right now,'" he said. "Everything has a long-term impact."
Constance agreed.
"Looking at the long-term impact of our decisions is so important because we're not just making decisions for ourselves, but for our kids and our grandkids" she said. "So many people in Shawnee have been here for generations, so I feel like we're not doing our job unless we're considering the generations coming after us."
Neighbor said during the first year on the job, the new city manager should also focus on the continued development of the city's massive "Nieman Now!" project and look at ways to improve communication and transparency in the city.
Councilmembers also agreed ideal candidates should be able to grasp the city's finances and understand how to work with a conservative budget.
"One thing that I think is really important is someone who has a track record of making really smart budget decisions, who can maximize the funding that we have and look for ways to save our city money," Constance said.
Adrian told Davis he specifically wanted a new city manager who embraced and empowered diversity in the community, so inclusion should be a top priority.
"I'd like to see the city manager working beyond economic development, which I think is very important, but also making all citizens feel welcome and the city be approachable for various cultures within our community," he said.
Council's preferences
Many of the council members agreed they believed the new city manager should have 10 to 15 years experience working in a similarly-sized city to Shawnee.
A few of them agreed a Masters in Public Administration was important.
Meyer said she would be interested in hearing from candidates who have worked in a city with a similar dichotomy to Shawnee.
After all, she pointed out, balancing the priorities for the older, eastern part of town with the newer, western part is one of the city's main challenges.
Mayor Michelle Distler said it was important for the new city manager to have an appreciation and respect for Shawnee's unique history.
Many of the council members agreed the new city manager should be someone eager to attend city events and festivals, and be active in the community.
"I want this next city manager to be able to stick around for a while," Zimmerman said. "I don't want Shawnee to be a stepping stone on the road to something else."
Neighbor agreed.
"We're in the unique position that in the last 25 to 30 years, we've had two city managers," he said. "I want someone who can focus on our strengths, understand our culture and figure out how to improve things going forward, all while giving strategic direction on our day-to-day and short term. They should also focus on the long-term to maintain what Shawnee values and what makes us such a great place to live."
Next steps
Davis told the council he was impressed by their consensus on so many of the traits and qualifications they brought up.
Using their comments, as well as input from city staff and the community, the recruitment firm will start to piece together a solid vision for its candidate search.
Davis did offer a few words of advice to the council.
First, he said the council should start deciding on a salary or salary range.
He pointed out that communities which offer competitive salaries tend to attract better candidates.
"It doesn't need to be an astronomically high salary, Davis said. "Sometimes you just need to put a range, depending on experience and qualifications. So, if you do get a superstar candidate who is making more than you thought you'd be willing to pay, at least you've given yourself some flexibility. I encourage you not to set it in stone."
He also told the council confidentiality on candidates' names should be key during the early process.
"Many times, the candidates that are in jobs they like and they're happily employed, they may want to test the waters or find out more about the job, but they may be reluctant to do that if their name is going to be exposed prematurely in the process," he explained. "If word gets out somebody's looking for a job, it could really put a candidate at odds with their community or governing bodies. It's important to maintain that confidentiality until the end, until you've decided your top candidates."
So far, the council is in the very early stage of its city manager search.
Throughout this month, consultants with Springsted Waters will prepare a draft ad and brochure, and create a position profile, and at its March. 15 meeting, the council will review it and vote on it.
At the May 14 council meeting, consultants will recommend semi-finalists and the council will select finalists for on-site interviews.
Those on-site interviews will be conducted the first week of June.
The council is expected to select a new city manager the second week of June.