SMNW

outlasts

ONW

, 48-46, in

OT

to advance to 6A girls state basketball tournament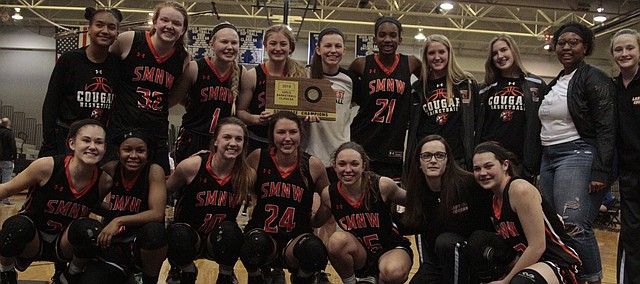 OLATHE — Shawnee Mission Northwest junior Hannah Black made sure to get her hands on some hardware as the Cougars accepted the Class 6A girls basketball sub-state championship plaque following their 48-46 overtime win over Olathe Northwest on Friday, but that wasn't the only object she held on to that symbolized hard work.
Black carried around the team's sledge hammer after doing the heavy lifting in crunch time. The SM Northwest junior scored the last two buckets for the Cougars in regulation to help force overtime, and finished with 10 points.
"She didn't shoot it well tonight, but she kept grinding and was mentally tough enough to step up and knock that shot down," Shawnee Mission Northwest coach Tyler Stewart said. "It was awesome."
Black corralled a long rebound with 1:08 to play and put it up and in while getting fouled to tie it up at 38-38. While Black put an end to an 8-0 Olathe Northwest run, she missed the potential go-ahead free throw. Mary Reiber put the Ravens back up by two after sinking two free throws with 33.3 remaining — putting the onus again on the Cougars. Black took matters into her own hands again by driving in for a layup to tie it with 13 seconds left. Northwest senior Christen Curry missed a contested runner to send the game to overtime deadlocked at 40-40.
"It's just a good feeling to do something to contribute to getting to the state tournament," Black said. "I can do something that can help us win and be on the court."
The Cougars (16-6, No. 9 in 6A) never trailed in overtime after Black opened the scoring in the extra period by making 1 of 2 free throws.
Shawnee Mission Northwest suffered back-to-back overtime losses in January to Olathe South and Manhattan — both of which will join the Cougars at the 6A state tournament. Since those two losses, the Cougars have won 10 of their last 11 games. After SM Northwest seniors Jordann Nachbar and Sarah Petersen and Olathe Northwest's Erika Boeh and Curry traded baskets, the Cougars still led by one with just more than a minute remaining.
Free throws were anything but free for both teams the rest of the way. After Olathe Northwest senior Shayna Espy missed two free throws that could have given the Ravens the lead with 1:08 to play, SM Northwest junior D'Asya Collier-Williams went to the line on the ensuing possession to make 1 of 2 to put the Cougars up 46-44 with 42.7 seconds left.
After Reiber missed a floater to tie it, Nachbar grabbed the rebound before getting fouled. The Ottawa commit — who had a game-high 16 points — made both ends of the double bonus to push the Cougars' lead to 48-44 with 24.9 seconds to go.
With the Ravens (16-6, No. 8 in 6A) down by two possessions, Curry launched a 3-pointer that went off the iron. Collier-Williams swooped in for the rebound and got fouled before jogging to the charity stripe with the chance to all but bury the Ravens. The Staley transfer missed both attempts, though, and Curry went coast-to-coast for a layup to cut the Cougars' lead to 48-46 with 7.0 seconds left.
The Ravens fouled Nachbar with 5.9 seconds to go, but she came up empty to leave the door open for Olathe Northwest to win or tie. Curry got all the way to the basket, but her contested layup at the buzzer was too strong.
"I have no words. It's so exciting," Nachbar said. "Just being able to go back since I didn't get to go back last year, it's such an exciting thing. I can't even describe it."
The overtime victory helped the Cougars (16-6) snap a three-game losing streak to the Ravens (16-6). Olathe Northwest ended SM Northwest's streak of three consecutive state tournament berths last season with a 46-31 win in the sub-state championship game. The Ravens won the regular season matchup against the Cougars, 58-53, on Dec. 20. The Cougars were without Black and freshman Kennedy Taylor in the last matchup.
"We were really confident because that game in the regular season, Kennedy was out and Sarah (Petersen) was in foul trouble," Black, who had been sidelined with a concussion, said. "We felt really confident coming into this game."
Olathe Northwest was bitten by the same injury bug early in the first quarter when Drake commit Sarah Beth Gueldner hit her head on the following after taking a charge and was unable to return. Charges played a big role in the turnover struggles for both teams in the first half. The Cougars led the Ravens, 12-11, at halftime despite leading in turnovers by the same margin. Nachbar noted that Friday's meeting was more physical than the one in December, which led to the game being officiated differently.
"I feel like the refs obviously, but there is nothing you can do about that," said Nachbar while comparing and contrasting the regular and postseason matchups. "Sarah Beth got out — which hopefully she doesn't have a concussion or anything — but we didn't have Hannah last game either. I don't even know."
Stewart felt like the biggest stretch of the game came at the end of the third quarter, as Nachbar and Collier-Wiliams combined for an 8-0 to turn a two-point deficit to a six-point lead. Nachbar began the run with a free throw and ended it with back-to-back buckets, and Collier-Williams added one of her two 3-pointers.
"That was very nice," Collier-Williams, who finished with nine points, said. "At the beginning of the season as I wanted to and I started to gain more confidence. Coach Stew helped give me more confidence to push and keep going."
Confidence is something that the Cougars have a lot of going into the 6A tournament, which will be held from Wednesday through Saturday at Wichita State's Charles Koch Arena. While the Cougars have the seventh-best record of the eight teams in the tournament field, Stewart felt that Friday's game showed that they were battle-tested and can beat anyone. The Cougars' lone losses have come against Olathe Northwest, Mill Valley (17-4, No. 3 in 5A), Olathe East (22-0, No. 1 in 6A), Olathe South (15-7), Manhattan (20-2, No. 3 in 6A) and Lawrence High (17-5, No. 7 in 6A). Northwest has also garnered wins against Olathe Northwest, Blue Valley North (17-5, No. 5 in 6A), Washburn Rural (18-4, No. 6 in 6A), Ulysses (14-7, No. 7 in 4A-I) and Hays (13-8, No. 8 in 4A-I).
"It's a lot of fun to get to state. We didn't get there last year and now getting another chance to get there is a lot of fun," Stewart said. "But we don't just want to get to state. We want to make noise at state. We know that we're going to celebrate tonight and then we've got to focus on who our next opponent is."
The Cougars will learn their first-round opponent when the state tournament brackets are revealed at 10 a.m. Sunday on kshsaa.org. The rest of the field includes Olathe East, Wichita South (21-1, No. 4 in 6A), Derby (20-1, No. 2 in 6A), Manhattan, Washburn Rural, BV North and Olathe South. The quarterfinals will take place on Wednesday.
"That's all I can say," Nachbar said. "It's so hype."
SHAWNEE MISSION NORTHWEST (48)
Abby Winter 0-0 0-0 0, D'Asya Collier-Williams 2-5 3-6 9, Megan Formwalt 0-0 0-0 0, Rachel Seibold 2-7 2-2 6, Kennedy Taylor 1-5 0-2 2, Hannah Black 4-9 1-8 10, Jordann Nachbar 5-10 5-8 16, Megan Hanson 0-1 1-2 1, Sarah Petersen 1-4 2-2 4. Totals 15-41 14-29 48.
OLATHE NORTHWEST (46)
Shayna Espy 2-4 0-2 5, Mary Reiber 2-11 5-5 10, Kaylie Kappelman 3-4 0-0 8, Liz Thomas 1-5 0-0 2, Erika Boeh 1-5 7-8 9, Sarah Beth Guelder 0-1 0-0 0, Christen Curry 6-20 0-1 12. Totals 15-50 12-16 46.
SMNW 4 8 15 13 8 — 48
ONW 6 5 10 19 6 — 46
3-point goals: SMNW 3-11 (Black, Collier-Williams 2); ONW 4-17 (Espy, Reiber, Kappelmann 2). Fouled out: Erica Boeh, ONW. Turnovers: SMNW 20, ONW 17.