Mill Valley girls basketball rolls to 5A sub-state title with win over
BVSW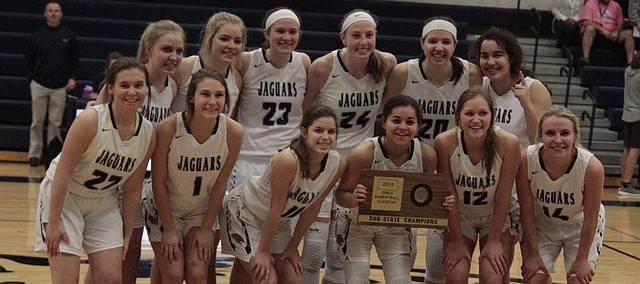 When the Mill Valley girls basketball team captured a Class 5A sub-state championship in 2016, Adde Hinkle was riding a roller coaster of emotions.
Hinkle had helped the Jaguars reach the state tournament for the second time in school history, but she still had an empty feeling inside with her sophomore campaign being cut short after tearing her ACL in Mill Valley's final regular season game against Basehor-Linwood.
Fast forward two years later.
Hinkle and the Jaguars had the chance to return to the state tournament with a win over Blue Valley Southwest on Saturday in the 5A sub-state championship game at Mill Valley. Stellar defensive play has been the Jaguars' driving force to being the third-ranked team in 5A, and Hinkle has had a lot to do with it. Hinkle came up with six steals and added six points to help the Jaguars to a 51-38 victory over the Timberwolves.
"Being able to get back there my senior year and actually play this year is really just amazing," said Hinkle after the Jaguars earned their state tournament berth. "I can't wait."
Hinkle's hustle has been contagious according to Mill Valley coach Drew Walters.
"The old joke was that you watch her feet because your feet will get faster. That's just the way she practices," said Walters of Hinkle. "Every day she's working that hard and it shows up in games because she causes people a lot of problems. She anticipates really well. I wouldn't want to be guarded by her, that's for sure."
The Jaguars forced 18 BV Southwest turnovers — 12 of them resulting in steals. Presley Barton and Claire Kaifes added four and two steals, respectively. Hinkle has shown the ability to knock down shots from the perimeter this season, but most of her offense has came directly from her defense with getting transition layups after making steals.
"I try to hustle as much as I can because I know I'm not as good offensively as most of our other players, so I try to bring the energy and do what I can on defense," Hinkle said.
Despite limiting the Timberwolves' offensive possessions with the forced turnovers, the Jaguars struggled to capitalize on them for the first 12 minutes. The Jaguars were turning it over themselves with some errant passes on high-low looks, but senior Evan Zars gave her team a spark late in the second half by attacking the basket. Zars scored 10 of her game-high 17 points in the second quarter.
"I just think Evan decided that she was going to be the calming presence on the floor and step up the way she can with her ability to score and her athleticism and to give us a calming presence on the floor, but in an attack mode," Walters said.
Zars pumped her fist after scoring the final bucket of the first half to give the Jaguars a 27-17 lead going into the break, and the momentum carried over into the second. Claire Kaifes, Hinkle and Zars jump-started the Jaguars on a 6-0 run to begin the second half, and they never looked back.
"We just knew that it was kind of close in the first half and I think everybody was getting a little anxious about it," Zars said. "We just wanted to step it up and really finish the game and make sure that they had no chance and that we were going."
The Jaguars earned the No. 3 seed in the 5A state tournament with a record of 18-4, and will go up against No. 6 seed Maize (16-6) at 4:45 p.m. Thursday at the Kansas Expocentre in Topeka in the first round. The winner will take on No. 2 seed St. Thomas Aquinas (20-2) or No. 7 seed Salina Central (15-7) at 3 p.m. Friday in the semifinals. The other side of the bracket will feature matchups between No. 1 Liberal (21-1) and No. 8 seed St. James (8-14) and No. 4 seed Bishop Carroll (17-5) and No. 5 seed Schlagle (16-5).
Mill Valley's only losses are all to state tournament teams — Aquinas, Bishop Miege (20-2, No. 4 seed in 4A-I), Washburn Rural (18-4, No. 5 seed in 6A) and Blue Valley North (17-5, No. 6 seed in 6A).
"I feel really good. I feel great for our players," Walters said. "They've kind of had this in the back of their heads the whole season. We talked to them just about getting better each day.
"I feel really good because this was obviously one of their goals. We've got a lot of work left to do. We've got a very good chance. We're one of eight teams, so you might as well try to go win every game you can play and see what happens."
BLUE VALLEY SOUTHWEST (38)
Peyton Justice 0-0 0-0 0, Cassie Forcellini 3-3 0-0 8, Elizabeth Garretson 0-2 2-4 2, Ashley Loeffelbein 1-4 1-2 4, Avery Miller 0-3 0-0 0, Arielle Sargent 3-3 2-2 9, Maddie Garretson 2-5 2-4 6, Amiah Simmons 2-3 0-0 6, Jaylan Dunlap 1-2 1-1 3, Sydney Beck 0-0 0-0 0, Lauren Heck 0-0 0-0 0. Totals 12-25 8-13 38.
MILL VALLEY (51)
Presley Barton 2-7 3-4 9, Lexi Crocker 0-0 0-0 0, Ella Shurley 0-1 0-0 0, Adde Hinkle 3-5 0-0 6, Trinity Knapp 3-6 2-2 8, Lexi Ballard 0-0 0-0 0, Claire Kaifes 3-11 1-2 9, Evan Zars 4-10 7-9 17, Payton Shurley 0-1 2-2 2, Sydney Stuke 0-0 0-0 0, Avery Altman 0-0 0-0 0, Sameera Elmasri 0-0 0-0 0. Totals 15-41 15-19 51.
BVSW 5 12 7 14 — 38
MV 9 18 16 8 — 51
3-point goals: BVSW 7-13 (Forcellini 2, Simmons 2, Loeffelbein, Sargent); MV 4-10 (Barton 2, Kaifes 2). Fouled out: None. Turnovers: BVSW 18, MV 14.