New western Shawnee fire station to cost $2 million more than council approved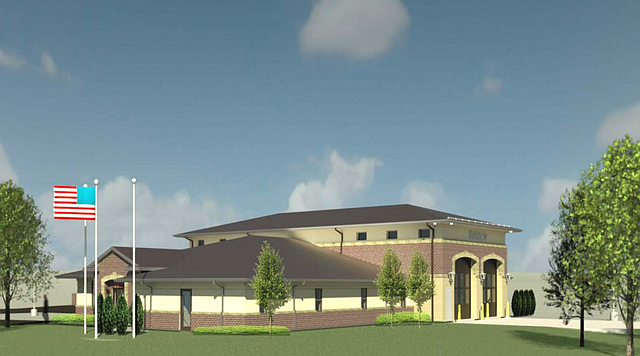 A new fire station proposed for western Shawnee will cost nearly twice as much to construct than the city anticipated.
Two years ago, the governing body approved funding for a new station, truck and staff.
The project was estimated to cost $3.6 million.
At the city council meeting on Feb. 26, Fire Chief John Mattox revealed the cost will actually be $5.8 million.
Mattox told the council he accepts full responsibility for $2.3 million increase.
"I found out through this process I didn't ask the right questions when we started this in 2016," he told the council. "I asked (an architect) what it would cost to build a new building based on square-footage and they told me. What I should've asked is 'what would a project like this cost?'"
Project costs missing from the original estimate included engineering, design elements, furnishings, equipment, additional bunk rooms and site preparation costs.
Mattox also pointed out that the busy construction market, shortage of skilled labor and the impact of natural disasters on material production and demand are putting upward pressure on construction costs.
He discovered all of this information after consulting with the project's new construction manager and architects.
On Sept. 25, 2017, Williams Spurgeon Kuhl & Freshnock Architects, Inc. was awarded the contract for architectural services for the project by the governing body.
On Nov. 13, 2017, McCownGordon Construction was awarded the contract for construction manager.
At last Monday's meeting, Councilwoman Stephanie Meyer said she was confused why the architect Mattox initially consulted didn't raise a red flag on the estimated cost two years ago. She told him she was frustrated with the hefty increase in the price, but she still believed it was a project the city definitely needed.
The new Station 74 is proposed for 53rd Street and Woodsonia Drive.
It will be roughly 9,000 square-feet, including two apparatus bays.
At its meeting on Feb. 26, the council unanimously approved preliminary plans for Fire Station 74.
But it tabled approving a new funding plan for the price increase to its March 26 meeting.
City staff recommended two funding options for the council to consider.
One would be funding the increase using the 2017 and 2018 unallocated Johnson County Courthouse sales tax and additional bond funding.
Another option would be to debt fund the entire increase for approximately $230,000 more in annual bond payments.
More like this story