Gonazles goes green: former city manager named parade marshal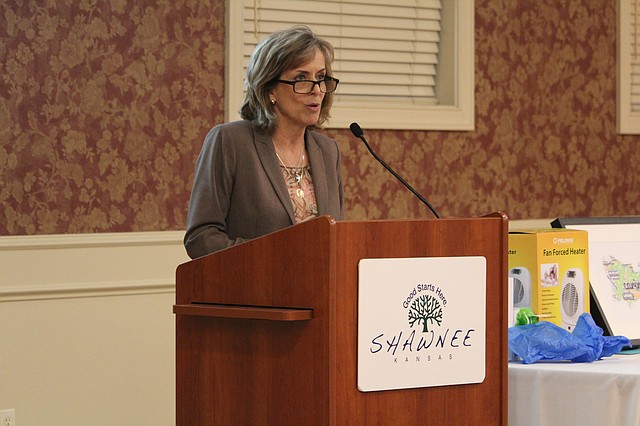 She led the city for 12 years and on Sunday, Carol Gonzales will lead the city's Irish pride.
The former Shawnee city manager was recently named the grand marshal of Shawnee's 36th annual St. Patrick's Day parade.
Gonzales, who is currently the director of finance and administration for the Mid-America Regional Council, has lived in Shawnee with her family for more than two decades.
Kevin Fern, a former president of the Irish American Club, nominated Gonzales for the honor.

"I know of no one who is more deserving of this honor than Carol. As a club we were founded with the purpose of building friendship and goodwill amongst our neighbors, in the great spirit of Irish traditions and Carol's entire career of almost two decades with the city has been a personification of those principals." Fern stated in his nomination.
His sentiment was echoed by current Irish American Club president Donna Sawyer.
"Naming Carol to lead the parade is also an acknowledgement to all the wonderful city employees who volunteer their time on parade day," she said. "We have counted on those men and women for so many meaningful tasks throughout the entire history of the Shawnee St. Patrick's Day parade. Their assistance plays a huge role in creating a smooth running, safe, and family fun parade."
The parade will begin at 1 p.m. on Sunday at the intersection of Johnson Drive and Monrovia and it will proceed east to Nieman Road.
The annual parade is sponsored by the Irish American Club of Johnson County.
This year's parade sponsors include the city of Shawnee, Jake's Place, Visit Shawnee, Descendants of Domhnall O'Reiley, Frontier Restoration, Hyper Computer and Battle Games, Old Shawnee Pizza, Fiesta Mexican Grill and Cantina, Dan-E Electric, The Dan Sullivan Family, Missie's Discount Liquor, Shawnee Downtown Business Assoc., Bates City BBQ, ShananiGanns, Shugosha Contemporary Martial Science, and Glamour Grooming
There will also be a few other green-tinged festivities later that afternoon.
Following the parade, the Hero Pull will tke place in the Splash Cove parking lot.
At 4:30 p.m. in the Herman Laird Park parking lot, you can end the day rooting for your winning duck in the Sister Cities Duck Race.
Entry fees collected for the parade Sunday will be donated to the Shawnee police and fire departments to benefit the Kansas Special Olympics.