Mill Valley holds walkout to honor Florida school shooting victims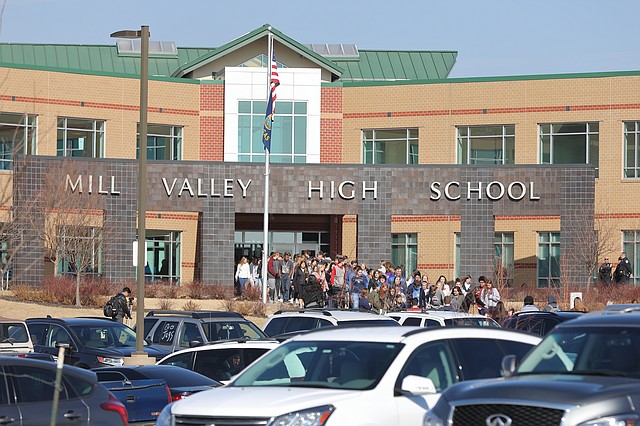 Hundreds of students walked out of Mill Valley High School during a quiet protest on Thursday morning.
Sitting near the school's back entrance, several students held up homemade signs featuring the names of recent school shooting victims.
Multiple Shawnee police officers, some in parked vehicles and others on foot, surrounded the area, protecting the students.
Off in the distance, men in three pickup trucks repeatedly drove past the school, on Monticello Road, displaying "come and take it" gun flags.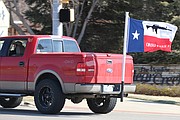 But for many of the students sitting solemnly on the pavement, the walkout wasn't about gun control.
It was about honoring the 17 victims of the Feb. 14 mass shooting at Marjory Stoneman Douglas High School in Parkland, Fl.
It was about rallying in solidarity with students from all over the nation.
The students who participated in the walkout have grown up in a world where school shootings are common headlines in the media.
Most of them were born after the Columbine tragedy; they were young kids when bullets blasted Sandy Hook.
And for Mill Valley senior Claire Boone, who organized the walkout, the simple act of leaving class to sit outside on a chilly day was worth one simple message: enough is enough.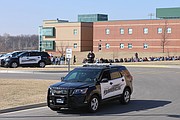 "Our purpose is not about gun control, it's about drawing attention to gun violence and inspiring our elected officials of both parties to put aside their differences and come together to find a solution," she told the Dispatch. "We need to stop the epidemic flooding this nation because no matter how you feel about gun control, nobody wants this violence."
During the walkout, students held 17 minutes of silence, with each minute honoring each of the 17 Parkland victims.
Boone gave a speech, in which she said, "These people are our teachers, coaches, siblings and classmates. These people are us. This is something that could have happened to anyone. Today we remember those 17. I am proud we are standing here, not representing political parties, but uniting with students across the nation in remembrance of the 17 lives lost that day and in hopes that something will be done to put an end to the chaos."
She was touched by the display of emotion she witnessed in the crowd.
"The power of the 17 minutes of silence brought many students and teachers to tears," she told the Dispatch. "As I went up to read my short speech, I looked at the crowd and didn't expect to see such a large one and I was immediately overwhelmed with the power in our movement."
Earlier in the week, Boone and several other Mill Valley students spent a few hours creating signs at Westside Family Church in Lenexa.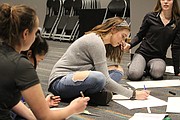 While they worked, several of the teenagers echoed Boone's thoughts about hope for a divided nation coming together to end gun violence.
Jacob Hoffman, a Mill Valley junior, told the Dispatch mass shootings have impacted his daily life in a way he feels is unique to other generations.
Whenever he is in a large group or sitting in class, he often wonders what he would do if a shooter came into the room.
That's weird, he pointed out, and not how it should be.
"We've been having tragedy after tragedy and nothing is being done," he said. "Participating in the walkout was one small way to make my voice heard."
His friend, Ciara Pemberton, agreed.
She told the Dispatch there needs to be a real discussion about a solution to mass shootings.
"It's been going on for so long and we always hear about it in the news," the 16-year-old said. "It's come to the point where it needs to end. There are little children scared to attend school and that's unacceptable. When people are fearing for their lives, change needs to happen."
And that is exactly what the walkout was meant to represent, Boone emphasized. Her generation wants a change now.
Generation Z is making its voice heard and its hoping the generations before it will listen.
"I'd like to say I have all the answers, but I don't because I'm 17 and I haven't even been to college," Boone said. "My job is to be a student right now and worry about my future. I'm demanding action from my elected officials because it is their job to help come up with a solution."
More like this story