Mill Valley knocks off top-seeded Eisenhower, 68-64, in 5A boys basketball state quarterfinals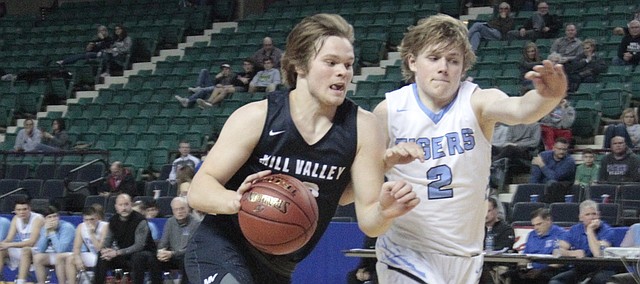 TOPEKA — With the Mill Valley boys basketball team trailing by seven points in the second quarter of Wednesday's Class 5A state tournament first-round matchup against top-seeded Goddard-Eisenhower at the Kansas Expocentre, Jaguar senior Cooper Kaifes heard a comment from the Tigers' student section that was directed toward him as he dribbled the ball on the perimeter.
"If you lose, it's on you," the Eisenhower fan yelled.
Kaifes heard it, and he let his play do the talking. The Loyola Chicago signee promptly converted a four-point play to silence the Eisenhower faithful. Kaifes had in a game-high 32 points and 12 rebounds to power the Jaguars past the Tigers, 68-64.
"I love that type of stuff, honestly," Kaifes, who shot 9 of 15 from the field and 10 of 13 from the charity stripe, said. "Whenever I here that in the student section, it really just gets me going. And whenever the players chirp, too, it's just the best."
While Kaifes scored 18 of Mill Valley's 20 points in the second quarter, the Jaguars (12-11) still faced a 31-29 halftime deficit. The Tigers (19-3) had a sharp-shooting senior of their own in Dylan Vincent, who was 8 of 10 from the field in the first half for 19 points. Buckets were much harder to come by for Vincent in the second half, though, as the Jaguars limited him to three points the rest of the way.
"He's a great player. He's got a great feel," Mill Valley coach Mike Bennett said. "He doesn't speed himself up. We just kept talking to our kids (about) just trying to get over the screens because he does a good job using them and forcing him to the screens so he's having another defender there with our bigs. We managed to do the right things down the stretch."
Along with tightening up defensively, the Jaguars knew that they couldn't just rely on more heroics from Kaifes — who drilled a buzzer-beating 3-pointer in the sub-state title game against Wyandotte — to send them to the state semifinals.
Enter freshman Keeshawn Mason.
The freshman forward only had two points in the first half, but he made sure everyone in the building knew what he was capable late in the second quarter. Mason threw down a one-handed dunk that broke that shot clock above the Jaguars' goal. The thunderous slam was unlike any other that Mason has had in his young career.
"Nah," Mason said with a laugh. "I did not think that was going to happen. I don't have words for that one."
After Kaifes tied it up with the first two points of the half, and Eisenhower's Mitchell Morris and Mill Valley's Logan Talley traded 3-pointers, Mason went into takeover mode with a personal 9-0 run. Kaifes then knocked down a triple from the corner, and all of a sudden the Jaguars led by 12 at 46-34.
"I wasn't doing very good first half, but I just kept on attacking," Mason said. "I knew I had to keep going because I wanted to win this game."
Mason finished a perfect 8 for 8 from the field and made 4 of 6 from the free-throw line to net 20 points. He added eight rebounds and two blocks.
"We got him into spots where he could be successful and he did the right thing. He put the ball in the basket," said Bennett of Mason. "And then coming down the stretch, you're a freshman and you make two huge free throws. That was huge for us."
While Kaifes and Mason combined for 52 points, it took a team effort from the Jaguars to hold off the Tigers in crunch time. Eisenhower trimmed Mill Valley's lead to 55-53 midway through the fourth quarter following a 3-point play from Jordan Vincent. Talley — who joined Kaifes in Mason in double figures with 11 points — responded with one of his three 3-pointers to push the lead back to five. After the Jaguars came up with a stop, senior Sammy Rebeck made a layup to put the Jaguars up by seven.
"We just tell him (Talley) to keep shooting because we know what kind of shooter he is and what capabilities he has. If he's open, he needs to shoot it," Bennett said. "And then Sammy comes up with a huge, huge board and a putback. I thought that was very critical going down the stretch as well."
Next up for No. 8 seed Mill Valley is a semifinal matchup against No. 4 seed Bishop Carroll (18-5). The Golden Eagles pushed past Schlagle, 68-57, to punch their ticket to the semifinals. The Jaguars and Golden Eagles will tip at 4:45 p.m. Friday with a spot in Saturday's state title game on the line.
"Anytime you're playing in the last weekend of the season is fantastic. I couldn't be more proud of these guys," Bennett said. "They played their butts off. It was a total team effort. We scrapped, we fought any got in a good position and we're able to maintain the lead. We did a good job down the stretch hitting free throws and that's all it is."
MILL VALLEY (68)
Matty Wittenauer 0-2 0-0 0, Sammy Rebeck 1-4 0-1 2, Mason Little 1-2 0-0 3, Logan Talley 3-8 2-2 1, Ben Weigel 0-0 0-0 0, Cooper Kaifes 9-15 10-13 32, Ike Valencia 0-2 0-0 0, Brody Flaming 0-2 0-0 0, Keeshawn Mason 8-8 4-6 20. Totals 22-43 16-22 68.
GODDARD-EISENHOWER (64)
Jordan Vincent 5-10 1-1 11, Dylan Vincent 9-18 1-2 22, Brett Block 0-0 0-0 0, Chance Omli 0-0 0-0 0, Ethan Stewart 2-3 0-0 6, Tanner King 1-3 0-0 2, Jeffrey Wake 6-18 1-1 16, Joshua Paul 1-1 0-0 2, Mitchell Morris 2-4 0-0 5. Totals 26-57 3-4 64.
MV 9 20 20 19 — 68
G-E 9 22 13 20 — 64
3-point goals: Mill Valley 8-19 (Kaifes 4, Talley 3, Little); Goddard-Eisenhower 9-25 (Dylan Vincent 3, Wake 3, Stewart 2, Morris). Fouled out: Tanner King, Goddard-Eisenhower. Turnovers: Mill Valley 8, Goddard-Eisenhower 3.