SMNW

falls to Wichita South in 6A girls basketball state quarterfinals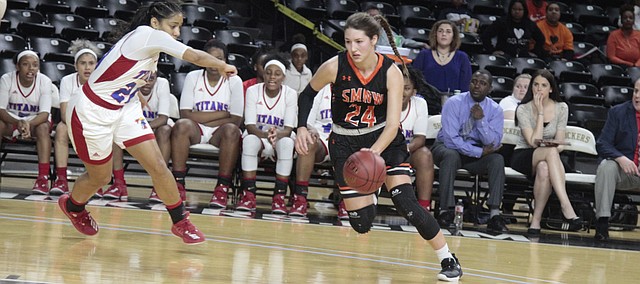 WICHITA — There wasn't a doubt in Shawnee Mission Northwest senior Jordann Nachbar's mind that the Cougars could overcome whatever deficit they faced late in second half against Wichita South in the Class 6A girls basketball state quarterfinals on Wednesday at Wichita State's Koch Arena.
Nachbar's belief in her team was what made the Cougars' 56-38 loss to the Titans that much harder to swallow. The Cougars only trailed by seven with 5:30 remaining, but they weren't able to fluster the Titans with their full-court press to get any closer.
"We had a few turnovers in the beginning, which kind of messed us up a little bit," Nachbar said. "I thought we'd come back, but I guess not. It just got a little rough."
Once the Titans cracked the code to the Cougars' press, they went into a stall and forced SM Northwest to foul. Wichita South closed the game on an 18-7 run — with 12 of those points coming at the free-throw line. Tre'Zure Jobe led the Titans with 16 points, and was a perfect 12 for 12 from the charity stripe.
"If you're down eight to 10 points, it can feel like 15 because they will slow it down and have long possessions," SM Northwest coach Tyler Stewart said. "One of our keys was we wanted to hit them early, and we did with the 4-0 start, but then we had a little bit of a lull where we didn't score and that's where they made their run and it ended up being the game."
Junior Rachel Seibold sparked the Cougars with the first four points, and finished with 11 for the game. Jobe answered with her lone two made field goals to tie it at 4-4. The two buckets from Jobe marked the beginning of a 15-1 Wichita South run that carried over into the second quarter.
The Titans had a balance offensive attack, as Haley Beard and Aerihna Aofa added 11 and 10 points, respectively. Loah-Anh Johnson chipped in nine points.
Hannah Black netted a team-high 14 points for the Cougars. Black kept the Cougars within striking distance with eight of her points coming in the third quarter. The SM Northwest junior picked up for fourth foul early in the fourth quarter, which forced her to the bench.
The second-seeded Titans (22-1) certainly didn't have any lack of motivation to finish off the Cougars (16-7) in the fourth quarter. Wichita South saw its 53-game winning streak snapped in the first round of the 2017 state tournament with a 44-42 loss to Wichita West. The Titans will get the chance to avenge their lone loss from the regular season when they meet Derby (21-1) in the semifinals. Derby's dynamic duo of Tor'e Alford and Kennedy Brown scored 24 and 18 points, respectively, to push the Panthers past the Titans, 60-41, on Jan. 13. Derby defeated Blue Valley North, 60-44, on Wednesday in the quarterfinals.
Wichita South was a familiar foe for Nachbar, who logged some significant minutes against the Titans in the 2016 state title game. The Titans edged the Cougars, 36-30, to win their fourth straight state title. For the rest of the Cougars, Wednesday's clash against the Titans was their first time playing in the state tournament.
"Any time you get to the state tournament is a valuable experience for all of your kids," Stewart said. "It's something that we want to remember, but then continue on as we go next year."
The Cougars' loss to the Titans marked the end of the high school careers for Nachbar and fellow seniors Sarah Petersen and Megan Nugent. Nachbar said that the bond that the three seniors have built won't break when they head off to their respective colleges in the fall. The family atmosphere is what the Ottawa commit has valued the most during her four years at SM Northwest.
"They're like my family, honesty. I don't even know how to describe it," Nachbar said. "They're just my family. I'll keep in touch with them. We'll all keep in touch because we're all just so close because of the season and all four years, too."
SM NORTHWEST (38)
Abby Winter 0-2 0-0 0, D'Asya Collier-Williams 0-10 5-8 5, Megan Formwalt 0-2 0-0 0, Rachel Seibold 2-9 7-8 11, Kennedy Taylor 2-5 0-0 4, Hannah Black 5-8 2-2 14, Jordann Nachbar 2-8 0-2 4, Megan Hanson 0-0 0-0 0, Sarah Petersen 0-3 0-0 0, Jackie McKay 0-0 0-0 0. Totals 11-47 14-20 38.
WICHITA SOUTH (56)
Tre'Zure Jobe 2-5 12-12 16, Haley Beard 5-10 1-2 11, Aerhina Afoa 3-8 2-2 10, Loah-Anh Johnson 3-5 2-6 9, Lauren White 2-3 1-1 5, Trinity Butler 0-0 0-0 0, Brittanie Brickhouse 1-4 0-0 2, Dayjsha Fanning 1-1 0-0 2, Amethyst Thomas 0-1 0-0 0, Sha'Nel Turner 0-0 0-0 0, Cassandra Lira 0-0 1-2 1, Maria Stephens 0-1 0-0 0. Totals 17-38 19-25 56.
SM Northwest 5 8 12 13 — 38
Wichita South 10 13 11 22 — 56
3-point goals: SM Northwest 2-12 (Black 2); Wichita South 3-6 (Afoa 2, Johnson). Fouled out: None. Turnovers: SM Northwest 11, Wichita South 8.