Mill Valley boys basketball comes up short against Carroll in 5A state semifinals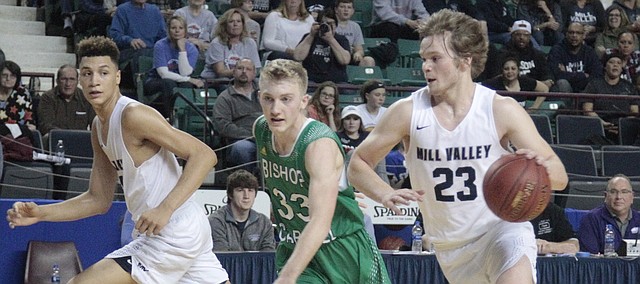 TOPEKA — For the past two seasons, the key to success for the Mill Valley boys basketball team has been simple.
When there is balance on the offensive end, the Jaguars have been able beat just about anyone. But when they're relying on Loyola Chicago signee Cooper Kaifes to carry them, the Jaguars can struggle.
Kaifes nearly made an exception to that rule on Friday in the semifinals of the Class 5A state tournament against Bishop Carroll when he carried the Jaguars in the fourth quarter. The Mill Valley senior scored eight of his game-high 20 points in the final period to pull the Jaguars within two, but Carroll pulled away in the final two minutes for a 58-47 victory.
"He's done it all season long. He's led us," said Mill Valley coach Mike Bennett of Kaifes. "When we're really, really good, it's when we've got balance and we've got multiple options. I couldn't be more proud of Cooper and his efforts with helping us and leading us this season."
Before the game even started, the net on the goal that Bishop Carroll was warming up on needed to be replaced after it started to come off the rim because of the Golden Eagles' scorching-hot shooting. The Golden Eagles (19-5) remained hot after the opening tip, as they made four 3-pointers in the first quarter to build a 16-7 lead.
The Jaguars (12-12) were up for the challenge, though, and gave the Golden Eagles a dose of their own medicine to take the lead midway through the second quarter. Junior Logan Talley drilled two 3-pointers, and Kaifes and Ike Valencia both added treys to power the Jaguars during a 14-2 run which put Mill Valley up, 21-18. Talley nailed all three of his triples in the second quarter, and finished with 10 points.
Mill Valley and Carroll combined to hit 14 3-pointers in the first half, but the second half was a much different story. The Jaguars made 6 of their 13 attempts from behind the arc in the first half, but missed all 13 of their 3-pointers in the second. The Golden Eagles only knocked down two from long range in the second half, but they were still able to push their lead to 10 in the third quarter thanks to the Jaguars' shooting struggles.
"We just didn't shoot it very well on our end and they did. That was the difference in the game. They executed," Bennett said. "They got the shots that they wanted and we didn't necessarily get the shots that we wanted. In the end, you've got to knock them down. Either way, both groups have got to knock them down and they did and we didn't."
The Golden Eagles took a 45-37 lead into the fourth quarter, but Kaifes quickly shaved the deficit to three with 6:54 to go. While Kaifes kept the Jaguars in it, the Golden Eagles had a go-to player of their own down the stretch. With the Golden Eagles clinging to a 47-45 lead with just under two minutes remaining, Tanner Mans snapped a long scoring drought with a transition layup to put Carroll up by four.
The Jaguars tried to cut the deficit down to one when Talley launched a 3-pointer from the corner, but it was blocked. Carroll left the door open by missing four free throws in the final two-and-a-half minutes, but Gunner Lynch was able to make 1 of 2 at the line with 1:21 to go to push the Golden Eagles' lead to five.
The back-breaker for the Jaguars came on their next possession, when they turned it over and Mans capitalized with another transition layup. Mans also got fouled on the play and made the free throw to extend the Golden Eagles' edge to 53-45 with 1:07 to go.
"The difference was probably them making shots and getting good execution. They were getting good, good looks," Bennett said. "We didn't necessarily do a great job there, but we fought, we fought, we fought. In the end, we couldn't necessarily execute what we needed to execute."
While Carroll ended Mill Valley's attempt of winning its second state title in the last three years, the Jaguars still have some hardware to play for in the third-place game at 2 p.m. Saturday against the loser of Pittsburg (20-4). Carroll will play Salina Central (18-6) at 6:15 p.m. in the title game.
"We've got film. We'll watch it tonight. We were really focused on Carroll and what they were doing. We'll watch them (Pittsburg and Salina Central) play and watch some film and will try to get a good look on them and see what's going on. Right now the key for us is staying together. We know that we're playing for another game. It's important and we've got to make sure we step up, take on the challenge and stay together."
MILL VALLEY (47)
Colton Hinkle 0-0 0-0 0, Matty Wittenauer 0-1 2-2 2, Sammy Rebeck 0-0 2-2 2, Mason Little 0-2 0-0 0, Logan Talley 3-9 1-2 10, Connor Nekola 1-1 0-0 2, Kyle Bonnstetter 0-0 0-0 0, Ben Weigel 0-0 0-0 0, Cooper Kaifes 8-21 2-3 20, Ike Valencia 1-2 0-0 3, Brody Flaming 0-0 0-0 0, Keeshawn Mason 4-6 0-0 8. Totals 17-42 7-9 47.
BISHOP CARROLL (58)
Brenyn St. Vrain 0-0 2-2 2, Clay Cundiff 5-14 0-0 10, Carsen Pracht 4-10 0-0 11, Gunner Lynch 0-2 1-4 1, Luke Larkin 0-0 0-0 0, Carter Reid 0-0 0-0 0, Lorenzo Barles 0-0 0-0 0, Tanner Mans 3-8 2-3 8, Carson Lee 3-8 0-0 9, Alex Littlejohn 1-2 0-0 3, Luke Evans 4-8 3-5 14, Max Bullinger 0-0 0-0 0. Totals 20-52 8-14 58.
Mill Valley 7 23 7 10 — 47
Bishop Carroll 16 16 13 13 — 58
3-point goals: Mill Valley 6-26 (Talley 3, Kaifes 2, Valencia); Bishop Carroll 10-27 (Pracht 3, Evans 3, Lee 3, Littlejohn). Fouled out: Clay Cundiff, Bishop Carroll. Turnovers: Mill Valley 17, Bishop Carroll 7.
More like this story