Mill Valley girls basketball falls to Maize in 5A state quarterfinals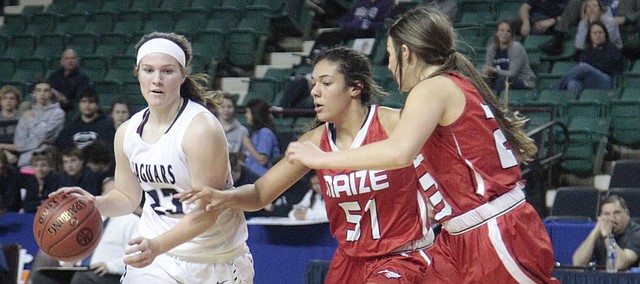 TOPEKA — Points were at a premium in the first half of Class 5A girls basketball state quarterfinal matchup between Mill Valley and Maize on Thursday at the Kansas Expocentre, so it was easy to understand why the Jaguars were fired up with their fast start to the third quarter.
A layup from senior Evan Zars and 3-pointer from junior Claire Kaifes gave the Jaguars the largest lead of the game 68 seconds into the third quarter, but Mill Valley couldn't buy a bucket for the next 10 minutes and change. The offensive lull was too much for the Jaguars to overcome despite a late charge, and their season came to a close with a 44-37 loss to the Eagles.
"We worked really hard and we all wanted it really bad," Zars said. "We just couldn't put it all together when it came down to it. I guess that's how it goes, but it sucks."
The Jaguars led 18-13 at the 6:52 mark of the third quarter following Kaifes' trey, but a free throw from Zars accounted for their lone point during an 18-1 Maize run. Mill Valley's next field goal didn't come until Kaifes made a layup with 4:35 remaining.
"Basically, we just didn't play well. Moments seemed a little big for all of us and we weren't sharp in sharing the ball like we normally do. We just seemed unsure and not confident, and I think that's really what kind of led to us being slow offensively," Mill Valley coach Drew Walters said. "That's kind of why we struggled to score. We just weren't confident with our movements and our cuts and our passes and our dribble. That leads to a hard time scoring when you do that."
All of Mill Valley's offense came from Kaifes and Zars until senior Payton Shurley knocked down a free throw with 3:56 to go. Kaifes put together a balanced stat line with 16 points, eight steals, five rebounds and three blocks. Zars recorded a double-double with 14 points and 10 boards.
The Jaguars came alive offensively down the stretch thanks to their full-court press that forced a few Maize turnovers. Mill Valley cut the deficit to three on two different occasions, but the Eagles made their free throws in crunch time to put the Jaguars away.
"We're obviously a high-pressure team, so we needed to drive the ball because the outside wasn't quite as open," Zars said. "In hindsight, we probably should have started pressing a lot sooner than we did because they couldn't handle it."
The loss marked the end of the high school careers for Zars, Shurley and Adde Hinkle. While Zars will be continuing her basketball career at St. Louis University, she's thankful for her time as a Jaguar.
"I'm grateful that I moved to a place like this and that this is what I came in to," Zars said. "I'm proud to be a part of this program. I'm going to miss it a lot, but I know they're going to do fine next year and they're going to keep working."
As Zars begins her college career with the Billikens, Walters plans to keep close tabs on how she's doing. Zars will do the same with the Jaguars, as her younger sisters Elle and Emree develop within the Mill Valley program. Elle will be a sophomore next year, while Emree will be a freshman.
"She's a phenomenal player and she's going to have a great career in college. They moved in here when she was a freshman and she hardly didn't know anybody," said Walters of Zars. "You saw the skills there when she was a freshman and each year she has just worked so hard. She's put in so much time outside of just what we do by herself and with her little sisters and her dad.
"You feel bad for her because she puts so much into this. It's paying off for her because she just continues to get better. She's meant the world to the program and she's one of our leaders and obviously you never replace an Evan Zars."
Shurley and Hinkle have also been pivotal pieces for the Jaguars in their 18-5 campaign. Walters most admired the toughness that the two seniors brought to the team.
"Adde Hinkle on the defensive end probably got screened once all year," Walters said. "You can't teach that. That's just who she is."
Walters added, "Payton broke her finger against Blue Valley Southwest. Playing out there with a broken finger, that's just how tough she is. She's just one of those kids that you love to have. She took the slow way to varsity, which is not the most common way, and she just kept working and grinding. I felt like we had six starters. We never dropped when she came on the floor and sometimes she gave us a boost with stuff we needed."
Although the Jaguars' season ended earlier than they would have liked, Walters said they have plenty of reasons to hold their heads high.
"We won two basketball tournaments this year and had a great record and a great season," Walters said. "I hope they have a bunch of great memories from playing."
Maize (17-6) will take on St. Thomas Aquinas (21-2) at 3 p.m. in the semifinals. Liberal (22-1) will play Bishop Carroll (18-5) in the other semifinal at 6:30 p.m. In the quarterfinals, Aquinas coasted past Salina Central, 57-30; Liberal defeated St. James, 62-29, and Carroll stifled Schlagle, 77-56.
MAIZE (44)
Cassandra Onwugbufor 1-2 6-6 8, Sydney Holmes 1-4 1-2 4, Halie Jones 1-5 8-9 10, Alexis Cauthon 4-10 0-0 10, Emily Laham 1-3 2-2 4, Autumn Hanna 1-2 3-4 5, Joscelyne Espinoza 0-0 0-0 0, Baylee Miller 1-3 1-2 3. Totals 10-29 21-25 44.
MILL VALLEY (37)
Presley Barton 2-8 0-0 5, Adde Hinkle 0-3 0-1 0, Trinity Knapp 0-3 0-0 0, Claire Kaifes 6-12 3-3 16, Evan Zars 6-10 2-4 14, Payton Shurley 0-1 2-4 2. Totals 14-37 7-12 37.
Maize 7 6 10 21 — 44
Mill Valley 6 7 5 19 — 37
3-point goals: Maize 3-11 (Cauthon 2, Holmes); Mill Valley 2-11 (Barton, Kaifes). Fouled out: None. Turnovers: Maize 14, Mill Valley 16.