Dispatch sports reporter named Oscar Stauffer award winner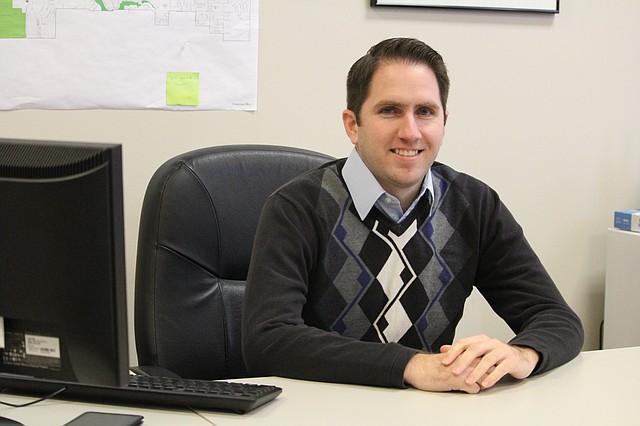 Dispatch sports reporter Chris Duderstadt was recently honored as a 2018 Oscar Stauffer Award recipient by the Kansas State High School Activities Association.
He was named "Sportswriter of the Year."
The 26-year-old was awarded a plaque during a presentation March 7 at the Charles Koch Arena in Wichita.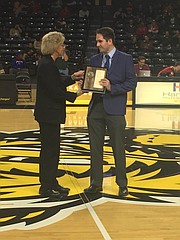 He was nominated for the award by Shawnee Mission Northwest High School athletic director Angelo Giacalone and Maranatha Christian Academy athletic director David Keener.
"There are so many other people who are just as deserving and work really hard too, so to be nominated by Angelo and Dave for such a cool award really means a lot to me," Duderstadt told the Dispatch news editor. "I put in a lot of hard work but I don't do that hard work to get awards. I do it because the kids deserve adequate coverage."
Duderstadt, of Lawrence, has been covering high school sports for the Dispatch since January 2016.
The schools he covers include SM Northwest, SM North, St. James Academy, Mill Valley, Maranatha and De Soto.
He also covers various high schools in the Lawrence area.
Duderstadt said he inherited his passion for both journalism and sports from his father, Glen, who was once the sports director for KOFO in Ottawa.
Glen is now a United Methodist pastor.
"I've always enjoyed going to sporting events with him and I really gained a lot of my sports knowledge and even journalism knowledge from him," Duderstadt said. "He definitely inspired my profession."
Duderstadt, an Overland Park native, started his journalism career as a student at SM West.
While attending Baker University as a student athlete, he earned NAIA Academic All-American honors for cross country and track, while managing the social media accounts for both teams as well.
Upon graduation, he began his professional career as an intern with the Florida Collegiate Summer League and the Sanford River Rats where he earned the league "Journalist of the Year" award in 2013, before moving back to Kansas.
Covering high school sports in Shawnee has been a rewarding experience for Duderstadt.
"Interviewing these kids over the years, I've gotten to know them not only as athletes, but as people too," he said. "It's really cool to see these really great kids grow up to do special things."
The respect is mutual.
Giacalone said Duderstadt is the epitome of high school sports through his dedication and self-motivation.
"Chris has a professional manner, yet lends a personal touch of caring and true human interest," the SM Northwest athletic director stated in an email.
Keener echoed the sentiment, adding he appreciates the job Duderstadt has done for Maranatha.
"Chris has done an outstanding job in helping to promote high school sports in this area," he stated in an email. "He is thorough in reaching out to the local schools regarding activities that we have taking place. He is genuine with our coaches and seeks to gain as much information from them as he can. As a small school in the metropolitan area, it is nice to have that voice that keeps our kids and families in the forefront as well."
To follow Duderstadt's high school sports coverage, follow him on Twitter.