City seeks community center ideas from public
Parks and recreation staff, consultants to incorporate input into final design for western Shawnee structure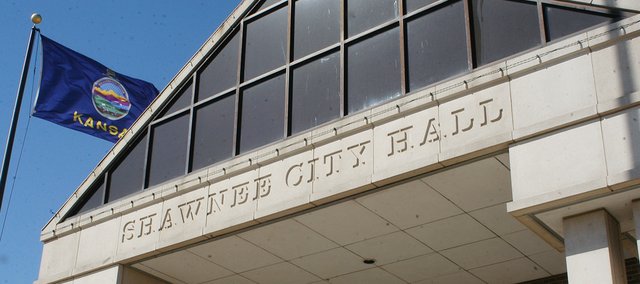 Do you envision yourself floating down a lazy river? Would your kids enjoy swooshing down a giant plastic slide into an indoor pool? Or, do you prefer a senior social area with a library and organized activities?
The possible amenities for a community center are endless and the city of Shawnee wants the choices to be yours.
City staff and consultants from the architecture firm Perkins and Will are seeking public input for a potential community center to be built in Shawnee at 61st and Woodland.
In 2005, the city purchased 26.3 acres of land at the site for a community center location. But the recession put those plans on the back burner.
Now, the city is giving the idea another go.
On Thursday evening, staff and consultants held an open house at Monticello Trails Middle School to get feedback on what residents would like to see in a community center.
Residents were given a build-a-center worksheet where they could list all their dream amenities and priorities within a $30 million budget.
"We want to give the community what it wants because this center is for them," said Neil Holman, Shawnee Parks and Recreation director. "There are a lot of neat opportunities we can do at that spot and I think we could turn it into something really special."
The city plans to hold more public input sessions and conduct a survey before finalizing a design and cost analysis for the project.
Then, it will go to the council for review.
If all goes well, Holman said, there will be ballot question regarding the financing of the community center for the November election.
He hopes residents will think outside the box when giving their feedback. After all, he pointed out, the potential community center will be in a very distinct location.
The 26-acre site is located near the Mid-America Sports Complex, the Kansas City Ice Center and Pavilion and popular trails.
"I don't want someone to say 'I want what Lenexa has' because I think we should have our own identity," Holman said. "Lenexa has a beautiful building, but we want something truly unique and specific to Shawnee. Our residents like trails, parks, opens space and trees. There's a different feel here. I don't think people just want a metal building with concrete and asphalt."
Several residents who attended the open house on Thursday agreed they wanted amenities which met their specific needs.
Shawnee resident Courtney Wilson, who recently moved to a neighborhood near the site, told the Dispatch she's very excited about a possible community center close to her home.
She hopes there will be a pool because her 2-year-old daughter loves to swim. She would also prefer fitness classes to be offered.
"I'd love for there to be an indoor playground because I think a lot of families with young kids could benefit from it when the weather is too hot or too cold to be outside," she added.
Sitting at the same table, Shawnee father Toby Green and his 8-year-old daughter Brynlee had a slight difference of opinion about their wants.
"I think it would be great to have a competitive lap pool for all the local teams," Green said. "But I know my daughter would prefer to have a fun pool with a slide."
Another resident Chad Milam was hoping the community center would have a spot for Donderdag!, a nonprofit cyclocross organization based out of Shawnee.
The winter cycling sport has become increasingly popular among families from all over the Kansas City area.
Milam, who sits on the organization's board of directors, would like to see a partnership where a part of the community center land is used for cyclocross racing.
He pointed out it would be a low cost for the city and provide an interesting family activity.
"While everyone else is inside, our kids are riding in the snow and the mud and getting dirty and having a blast," he said. "Everybody participates; nobody sits on a bench."
Regardless, he's hopeful the community center will be built soon.
After all, he said, it will benefit people all over Shawnee.
"A good community center is more than just a structure," he said. "It's a facility that offers everything residents want, from a pool to a gymnasium. It's a safe place for kids to hang out and a way for families to bond."
If you didn't attend last week's open house, there is another chance to offer your two cents next month.
The city will be holding a second public meeting April 4 at Shawnee Mission Northwest High School.