Shawnee private school raising money to create space for music department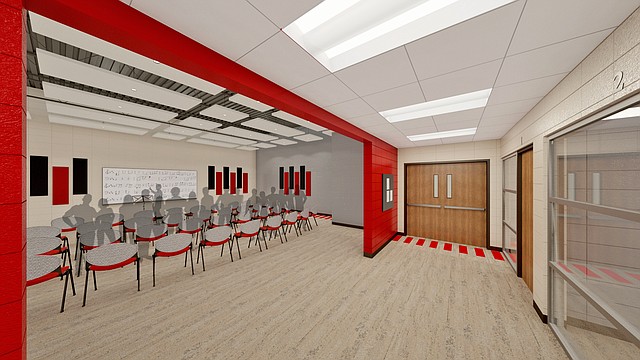 Music classes at Midland Adventist Academy are currently held on the auditorium stage in the small private school's gymnasium.
Throughout the day, around 130 students shuffle in and out of the makeshift music classroom, which is closed off from the gym with a temporary partition.
The acoustics in the space leave a lot to be desired.
Sometimes, students perfecting their singing skills are distracted by bouncing basketballs just a few feet below. Other times, pummeling rain beating down on the gym's metal roof muffles the sound of beating drums.
Since the stage is frequently used for worship assemblies, academic ceremonies and as a seating area for sporting games, music director Steven Hutchison often hauls instruments down to an empty classroom or the library for music lessons.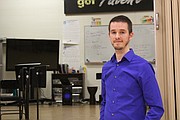 It's not an ideal situation, but the passionate educator cheerfully makes it work.
Soon, that all might change.
Midland Academy, 6915 Maurer Road, is currently raising money to renovate a designated learning space for music education at the school.
After consulting with an architect and creating a design, the Shawnee school estimates the renovation will cost $120,000.
It received a $50,000 grant from Adventist Health System and it has raised around $46,000 through anonymous donations and fundraising efforts.
The hope is to raise the remaining funds by June and start construction this summer.
The new space will include practice rooms, a creative lab and safer instrument storage areas.
Hutchison is looking forward to the future renovation.
He wants Midland students to have a stable classroom where they walk inside and immediately associate that space with music.
"Right now, there's a friction in our music environment," he told the Dispatch. "When you hear the background noise from the gym, you think of PE, or when you look around, you remember this is where you sat last night and ate nachos while watching a volleyball game.
"It's not stable and elementary students thrive in a stable and structural environment. To have a place for just music will allow them to focus more and deepen into their learning."
The new music department will take over the current library space.
Library materials will be absorbed into individual classrooms.
The Christian school recently went one-to-one, meaning every student now learns with an individual Chromebook, eliminating the need for a computer lab.
The music department will receive state-of-the-art computers and music-related software, however, since Hutchison incorporates composition into his curriculum.
"I inspire students to write their own music and get into the production side of things," he said. "It takes you to a higher level of thinking to create rather than just perform. I want to deepen their knowledge of music."
The aspect of the new music department he is most excited about is having coexisting spaces for younger students and older ones.
After all, music lessons for elementary school students are vastly different than for those of their older counterparts, Hutchison pointed out.
As music director, he teaches nine classes per day, ranging from nursery rhymes with energetic kindergartners to symphony excerpts with focused high school upperclassmen.
"I love the variety because I don't get bored," he said, with a smile. "It's pretty unique and I like having the ability to educate these kids for the entire lifespan of their education. I know their strengths and I know what they need to work on, so it makes me more familiar with how to teach them individually."
But on the auditorium stage, serving both age groups can be tricky.
His elementary students learn music with movement and casually sit in circles during lessons.
High school and middle school students need structured seating for performance groups, however.
To have a place conducive to both types of learning would be amazing, Hutchison said.
After all, he just wants to help each of his students thrive in the best way possible.
"Music played a big part of my life, so to be able to guide students as they discover that passion for themselves is an honor," he said. "And what I love (about Midland) is that not only am I able to be there for them as an educator, but also spiritually as well, which is really cool."
For more information about the renovation, visit musicformidland.com.