SMNW

baseball falls to Columbine in extra innings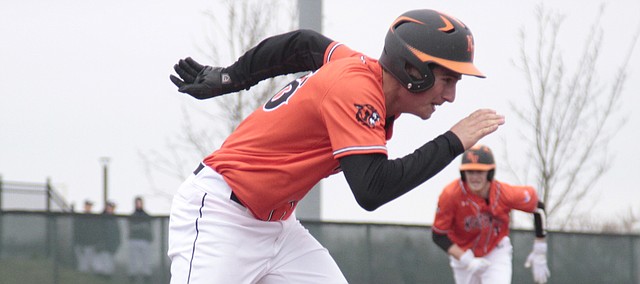 LAWRENCE — It was the same story for the Shawnee Mission Northwest baseball team in its 5-4 loss to Columbine (Colo.) on Saturday at Free State as it was in the Cougars' season opener against Blue Valley Southwest.
Three SM Northwest errors led to four of the Rebels' five runs, and it resulted in another extra-innings loss. The Cougars fell to the Rebels in nine innings after suffering a 5-4 loss in 10 innings on Wednesday to the Timberwolves.
"We've just got to be fundamentally sound and today we weren't," SM Northwest coach Domenic Mussat said.
The Cougars and Rebels were tied at 3-3 going into the ninth, but Columbine scored two runs on a throwing error and a wild pitch to take a two-run lead. The Rebels had runners on the corners with one out when Frankie Shearn took off for second to try to put two runners in scoring position. Northwest pitcher Drake Reynolds cut off catcher Bhargav Marada's throw to second and threw behind Jutze at third. Reynolds' throw was wide of the bag and allowed Jutze to score and Shearn to move to third. Shearn then scored on the wild pitch.
Reynolds and fellow reliever Jordan Linderer were both victimized by errors. The Rebels scored two runs off of Linderer in the fifth after Brady McClean reached on an error with one out. The Rebels capitalized on the miscue with three straight walks brought and a run on a fielder's choice.
Linderer, Reynolds and starter Mark Adamiak each had one rough inning, but they were able to keep the Rebels guessing other than that. The SM Northwest trio combined for 11 strikeouts. Josh Mitchell added a punch out for the final out of the ninth.
"I think they all looked pretty good," Mussat said. "They did what we asked them to do. We're still working through the rotations and getting stuff set up and deciding what we need. I think they all worked well today."
Adamiak struck out five in four innings after getting the start for the Cougars. The first three batters reached for Columbine in the first between two singles and a hit-by-pitch, but Adamiak limited the Rebels to one run after striking out the next two and getting a groundout to end the inning.
The Rebels opened the second inning with a single from Dylan Jutze, but Adamiak coaxed Brady McClean to ground into a 4-6-3 double play to avoid a possible jam. Adamiak retired the last eight hitters he faced.
The Cougars surged in front with three runs in the third. Austin Bell tied it up after scoring on a fielder's choice, and Jacob Ramirez and Marada added RBI singles to put SM Northwest up 3-1. Bell, Matt Nolan and Nick Chomyak worked two walks apiece, and the Cougars had nine total. Mussat has been encouraged about the Cougars' approach at the plate, and believes that the offense will begin to come alive when they start hitting with runners in scoring position.
"We're hitting some balls hard right at guys," Mussat said. "Once those start falling, then things will start rolling. I'm pleased with the top of the order with the way they've been watching pitches and getting on base."
Northwest rallied for one run in the bottom of the ninth, but left the tying run at second and winning run at first. Austin Bell cut the deficit to 5-4 with an infield RBI single.
Six of the Cougars' seven hits were singles. Josh Mitchell had the lone extra base hit with a triple to deep right in the bottom of the fifth. Mitchell nearly pushed the Cougars' lead to 4-1, but was thrown out at home on a fielder's choice. Mitchell and Marada paced the Cougars with two hits apiece.
The Cougars (0-2) will try to get in the win column against SM North at 7 p.m. Tuesday at 3&2. North (0-1) had its game on Saturday against Leavenworth postponed.
"We've got some work to do," Mussat said. "We'll keep working at it and keep plugging away. It's still early and we've got some things to fix up."
Columbine 100 000 202 — 5 6 0
Northwest 003 000 001 — 4 7 3
W — Jake Gimbel. L — Drake Reynolds.
3B — Josh Mitchell, SMNW.