Councilwoman appointed to serve on National League of Cities' committee
Shawnee City Councilwoman Lindsey Constance has been appointed to the National League of Cities 2018 Energy, Environment and Natural Resources federal advocacy committee.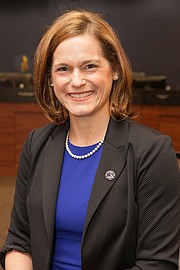 This committee has the lead responsibility for developing NLC's federal policy positions on issues involving air quality, water quality, energy policy, national wetlands policy, noise control and solid and hazardous waste management.
The appointment was announced by NLC President Mark Stodola, mayor of Little Rock, Ark.
"I'm thrilled to represent Shawnee on the Energy, Environment and National Resources committee. Seeking ways to improve efficiency, grow in a balanced and thoughtful manner, and seek innovative solutions to challenges facing cities is something I will continue to pursue in my work on this committee," said Constance. "I look forward to contributing ideas, collaborating with other leaders, and bringing solutions back to our community so that Shawnee can be the very best place to live and work."
As a committee member, Constance will play a key role in shaping NLC's policy positions and advocate on behalf of America's cities and towns before Congress, with the administration and at home.
"Serving on an NLC committee is one of the most effective ways for a local official to advocate for their community in Washington," said NLC President Stodola. "I am thrilled to have Lindsey Constance join a team of local leaders from around the country working to craft our policy platform and to solve the most pressing challenges facing our communities."