A mattress fit for a governor: Colyer, wife tour Shawnee bedding factory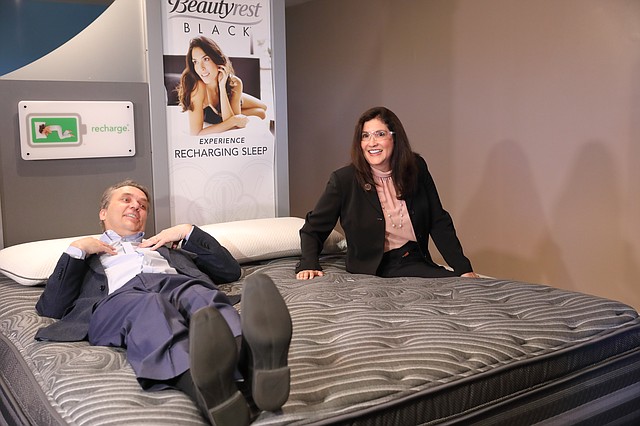 The governor's ticket to a good night's sleep was found in Shawnee.
On late Friday morning, Gov. Jeff Colyer and his wife, Ruth, visited the Serta Simmons Bedding plant in western Shawnee to tour the facility and select mattresses for the governor's mansion.
Serta Simmons donated the mattresses to the Friends of Cedar Crest to be used for the master suite and guest bedrooms of the historic Topeka residence.
The factory, 7910 Hedge Lane Terrace, is one of 39 Serta Simmons plants across the nation; overall the Atlanta-based company has 6,000 employees.
During a special presentation for the governor and his wife, regional sales specialist Katie Quigley explained business is booming for the Shawnee location, which opened a little over 20 years ago.
The plant currently has 145 employees, but its workforce has increased 50 percent over the last two years as the demand for mattresses skyrockets.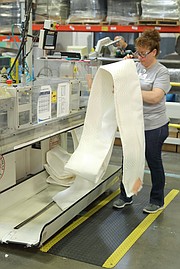 "People are becoming more aware of changing their mattress," she said. "People didn't think that was a thing you needed to do that often. We have people who have not had a new bed in 20 years and that's bad. They don't realize you have got to keep switching those out."
The Shawnee plant, which creates mattresses and foundations, services 13 states within a 50- mile radius and it produces 1,200 products per day.
Almost everything at the plant, including the handles on the sides of the mattresses, are made by a person.
It also uses local materials, such as foam from Kansas City, Mo., and steel from St. Joseph, Mo.
Serta Simmons is also a very green company, Quigley said, as it recycles all of its plastics, scraps and cardboards.
"Nothing goes to waste," she said.
After the presentation, the governor and his wife toured the factory to see employees in action. They were joined by representatives from the Shawnee Chamber of Commerce, a few city councilmembers and media, among others.
Colyer told the Dispatch he was amazed by all the behind-the-scenes work that goes into each product.
"It was really cool to see what is going on here," he said. "The complexity of building these beds is incredible. They're not just putting a couple springs together with some foam on top. There's a lot of science and technology and craftsmanship to it."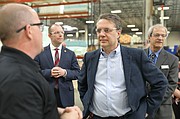 After the tour, the governor and first lady tried out a few mattresses to see which one would be a good fit. Colyer traced his fingers along the stitching of one mattress, impressed with the meticulous detail.
"I'm a surgeon, so I really admire the stitching," he told the Dispatch. "I always assumed the stitchings were done by machine, but they're done by hand and they're absolutely perfect."
In the end, the couple chose mattresses from Serta Simmons' Beautyrest Black luxury line.
"Having a Kansas product in the Governor's mansion for guests is great, because now we can tell them 'not only are you sleeping in Kansas, but you're sleeping on Kansas,'" Colyer said, with a smile.
Serta Simmons Bedding officials agree.
Quigley pointed out that having Kansas-made products inside the governor's residence is the essence of state pride.
"To have the governor of Kansas sleeping on a Kansas-made bed is a big deal," she told the Dispatch. "We're really excited that he came out here and he's supporting the local workforce. A lot of people don't even realize we're here in Shawnee making mattresses. A lot of hard work goes into making these beds."
Local elected officials who joined the governor on the tour agreed they were appreciative of the state's leader taking the time to visit a Shawnee business.
"I think it's great," Councilman Jim Neighbor said. "There's a lot of manufacturing here in Shawnee employing a lot of people and putting out a lot of product. We're certainly glad for what we have."
Councilwoman Lindsey Constance said she was thrilled to join the governor on the factory tour and learn alongside him about manufacturing in Shawnee.
"Touring the facility was a fascinating experience and I learned so much about what goes into the manufacturing process," she said. "I enjoyed learning about the locally sourced materials and the eco-friendly practices at Simmons bedding. It was clear that employees take pride in their work."
For more information about Serta Simmons, visit sertasimmons.com.