Outstanding 2018 graduate: Dakota Wilson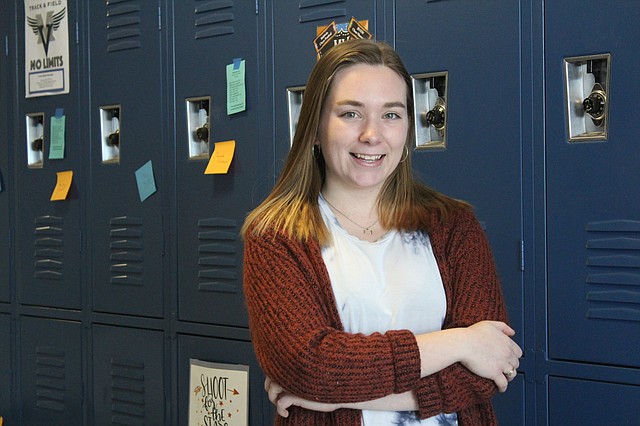 Name: Dakota Wilson
High School: Mill Valley
Plans after high school: She is going to attend the University of South Dakota in the fall.
High school activities: symphonic band, jazz band and Peers in Learning
Digging deeper: When her little brother was diagnosed with Tourette Syndrome, Mill Valley High School senior Dakota Wilson realized she didn't really know anyone else with a disability.
So, she decided to change that fact.
Last school year, she joined Mill Valley's Peers in Learning program, which pairs students with their special education peers.
Helping physically and mentally disabled students was an eye-opening experience for the Shawnee teenager, who quickly realized it takes patience and empathy to learn speaking patterns or pick up on nonverbal cues.
"It's fun to get to know them and ask them about their day," she said. "When you don't interact with them, it's easy to see them in the hallway or at the grocery store and not really know who they are. But I've learned so many of them are smart and have the potential to reach their goals."
The class was even where she met her best friend, Corinne, a junior who is wheelchair-bound and nonverbal.
The two became so inseparable, Wilson was granted permission to become one of Corinne's caretakers last fall.
Her duties consist of helping Corinne, who has a seizure disorder, with her homework, fixing her snacks, making sure she gets off the school bus okay and taking off her leg and spine braces, among other things.
The two also go to Mill Valley musicals and plays, plus dine out once a week, usually to Panera for their favorite mac and cheese.
"Corinne is super funny and has a really positive attitude," Wilson said. "She has three seizures a day and after each one, she pops back up and is ready to do something else."
She doesn't let anyone get in her way."
They mainly communicate via sign language.
Although Wilson still has a few more weeks to go before graduating, she's already heartbroken at the thought of leaving Corinne behind when she goes to college.
"I bought an iPhone so I can Facetime her when I leave," she said. "I'm going to miss her so much."
Her work with the Mill Valley special education students and her close friendship with Corinne is what inspired Wilson to pursue a double major in high school special education and art education to next year.
The 18-year-old chose the University of South Dakota for its reputable special education undergraduate program.
While she's going to miss Corinne the most, she told the Dispatch she's also going to miss her Mill Valley band experience, in which she played tenor saxophone.
Some of her closest friendships and fondest memories are from the activity.
She's looking forward to recreating that special momentum while being in the marching band at the University of South Dakota.
Of course, it will never replace Mill Valley.
"You could walk into the band room in the worst mood and you'll eventually walk out smiling," Wilson said. "Someone always makes your day."
Wilson is set to graduate from Mill Valley this spring.