Pinnacle Gymnastics thrives in new western Shawnee location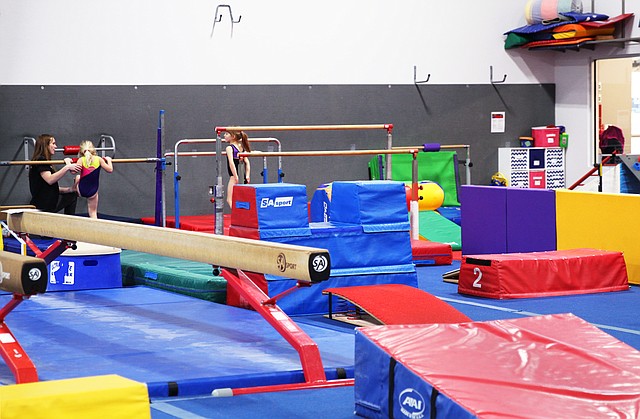 Thirteen years ago, Pinnacle Gymnastics opened in western Shawnee with a modest 75 students.
Today, it serves 1,400 students per week.
Now sitting in a brand new customized facility near Kansas 7 Highway and 75th Street, Pinnacle Gymnastics is a recreational force, offering everything from traditional gymnastics classes to Junior Olympic teams to ninja obstacle course training.
It also features ballet, tap, jazz and hip-hop dance classes; a preschool program and day camps, among many other activities.
The 17,700 square-foot building, which opened in January, provides more space, more rooms, a second-floor glass viewing area for parents and an in-ground pit for safer gymnastics training.
When Pinnacle founder and owner Morgan Kuchynka arrived in western Shawnee in 2005 as an enthusiastic college graduate, she never dreamed her small business would become such a massive staple in the community.
After all, the Overland Park native was simply trying to pass on her love to others.
Kuchynka was a childhood gymnast who reached the highest Junior Olympic level in high school. As a teenager, she started coaching gymnastics through Blue Valley Recreation, going on to develop its team classes.
After graduating from the University of Kansas, she secured a loan to pursue her dream of opening up her own facility.
In 2005, she opened Pinnacle in a 6,000 square-foot facility near Shawnee Mission Parkway and Martindale Road.
A couple years later, it moved to a bigger building in Perimeter Park where it flourished for nearly a decade, before moving to its current space.
Kuchynka chose to open her business in western Shawnee for its family-oriented community.
"The area is thriving with new homes being built and families living in the area," she said. "I wanted to be a place in Shawnee that people know and trust."
In fact, the mother-of-three fell so much in love with the area as a business owner, her family moved to western Shawnee.
She's grateful to be part of the community in both respects and she's touched by the increasing amounts of support.
"When people refer their friends here (to Pinnacle), that is the best compliment we can receive," she said. "We strive to keep a personal touch with our clients, even though our program continues to grow."
And she hopes Pinnacle keeps inspiring others, whether it's to improve fitness, compete or even to just make new friends.
"Not many people get to turn their childhood dream into a reality," Kuchynka said. "I'm very lucky."
For more information about Pinnacle Gymnastics, visit pinngym.com.