Shawnee seventh-grader headed to National Geographic Bee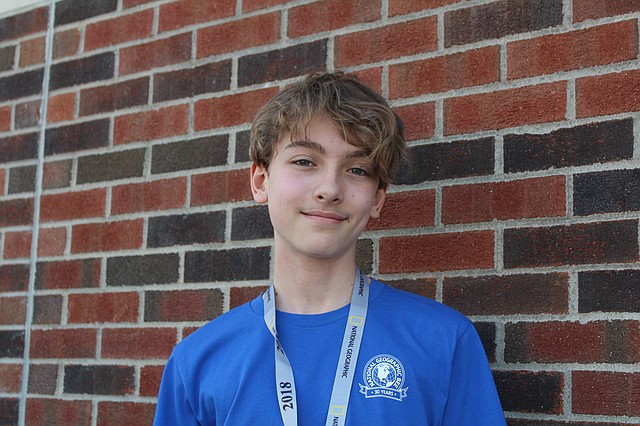 When Wyatt Boyd was in kindergarten, he could look at a blank map of Africa and label where each country should go.
Nearly a decade later, he's putting those impressive skills to the test.
Wyatt, a seventh-grader at Hocker Grove Middle School, will be representing the state of Kansas in the National Geographic Bee in Washington D.C. later this month.
He recently won the state championship at the Eisenhower Presidential Library and on May 20-23, he will be competing against 53 other kids for the national title, plus a $50,000 college scholarship.
The competition, open to fourth through eighth graders, focuses on the entire scope of geography, with complex questions about everything from the political structure of a country to economics to language.
"It's not just questions like 'What is the capital of New Zealand?'" said his mom, Amy Boyd. "It's way beyond that. It blows me away."
To study for the upcoming national competition, Wyatt has been watching Jeopardy every day, keeping up with current events in the news, reading National Geographic and answering quizzes on the National Geographic app.
But, really, most of his 'studying' is already done, since the Shawnee teenager has spent years pouring over maps, memorizing atlases and reading any detail he can find about other countries.
It's a passion for geography that began when he was in preschool.
For a reason Wyatt can't pinpoint, he just fell in love with maps.
"It's hard to explain, it's just something I've always liked," the 13-year-old said.
Over the years, Wyatt began to collect and study maps; he's even run out of wallspace in his bedroom because he has so many.
He also loves reading about different cultures and languages and often studies the history of various countries.
Over the years, some of his favorites have included Georgia, Iceland and Sweden.
He even enjoys inventing make-believe countries and creating entire detailed cultures for them, such as made-up languages and license plates.
His interest in other countries may have been inspired by his parents, who often take him and his twin brother on trips around the globe.
So far, Wyatt and his family have been to several countries in Europe, Hawaii, Canada and places across the United States.
His dream one day is to visit the southernmost tip of South America, near Antarctica, and Skeleton Island in Namibia.
He's also really excited to visit Washington D.C. this month because he hasn't been there yet either.
What's even better is while he's there, he's going to meet dozens of other kids around his age who share a similar passion for world geography.
Wyatt is looking forward to putting his talent to use during the national competition, which will feature a written test, a preliminary round and a final round, which will be televised on the National Geographic channel on May 24.
"I'm not really nervous," Wyatt told the Dispatch. "I'm just trying to have fun with it and do my best."
His mom couldn't be prouder.
"I believe in him," she said. "It's pretty incredible, it's wonderful."
No matter what happens, Wyatt already has one goal in mind: "I'm going to try again next year too," he said, with a grin.