Ready, set, go: Shawnee teens build motorized cars for disabled youth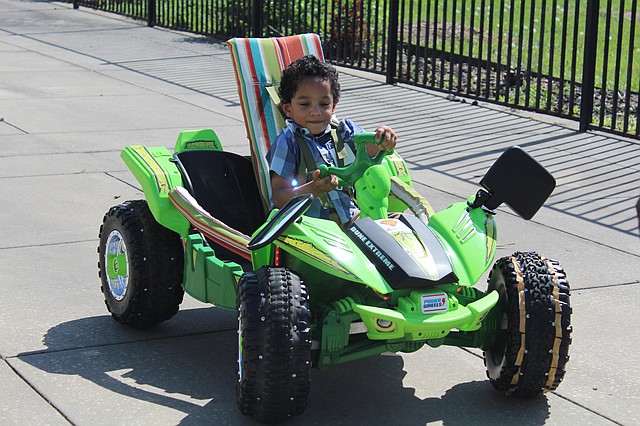 When he was 2 years old, Jerry Guild was run over by a texting driver.
The toddler suffered multiple, serious injuries, including a severed spinal cord which left him paralyzed from the belly-button down.
These days, the wheelchair-bound 4-year-old is a good-natured little boy who loves to boss around his three older siblings, spend time with his dad and play with his favorite toys.
And now thanks to dozens of teenage and adult volunteers, he's able to do something his parents never imagined: drive a Power Wheels hot rod like other kids his age.
This weekend, Kansas City area high school and middle school robotics students, local engineers, computer programmers, car mechanics and other professionals took part in the Geeks vs. Geeks challenge, in which they modified donated Power Wheels type cars for toddlers with movement disabilities.
At the build event, which took place at the new Mark One Electric headquarters in Kansas City's West Bottoms, multiple teams meticulously pieced together a dozen cars.
On late Sunday afternoon, families poured into the building so their excited children could take the cars for a test drive, before taking them home.
Jerry was the first one up.
With the power button on his steering wheel, the youth quickly got the hang of maneuvering his neon green hot rod around the sidewalks right outside the building.
He grinned as volunteers cheered.
His dad, also named Jerry Guild, walked alongside him, beaming.
He told the Dispatch his family is grateful for the gift.
"It shows you other people do care about your child," he said. "There are a lot of emotions involved for me. There's a lot I can't put into words."
The play car will help Jerry become a little more independent, which is a big deal for his confidence.
"He's a typical 4-year-old but he can't move around like a typical 4-year-old," said Guild, of Kansas City, Kan. "This makes it possible. Now he can keep up with his brothers and sister. I love that he can just relax and have fun in it."
It's a sentiment appreciated by Rebecca Kidwell, the president of LEARN Science & Math Club, the nonprofit organization which holds the build event.
She pointed out that more than a half-million youth under the age of 5 have mobility problems and few have access to devices that give them free movement.
Babies and kids who cannot move about like their peers suffer "an exploration gap." They cannot explore and learn about the world on their own, and this costs them socially, intellectually and physically.
"Brains don't develop properly without mobility," she said. "It's so important. And this is also about giving kids authority. We don't want them to be a passenger in their own lives."
The kids gifted a car last weekend have a wide range of mobility issues.
A couple were injured in serious car accidents, while others were born with physical or developmental disabilities.
"Every one of these kids has a different story and hearing each one of them lights your fire," Kidwell said. "You want to do something to help them."
Several Shawnee teenagers from the "Red Hot Techie Peppers" robotics team, who participated in the build, agreed.
"It feels good to help out," said Davis Johnson, 17. "The moment when you give the cars to the kids feels great. They're so happy to get the car; their smiles are infectious. Watching them drive off in the car is worth all the hard work."
His 15-year-old sister echoed his thoughts.
"I'm doing something that really matters to someone's future and that is a great feeling," said Katrina Johnson.
While each car has similar modifications, each one has changes specific to each kid's needs.
Most of the cars were given a drive button on the steering wheel, a kill switch and remote control access for parents, horn button, lights, seat adjustments, a seat harness and rubber added to the tires for more traction.
Jeff Roos, a father of two robotics members, acted as one of the mentors at the event by helping the teens build the cars and offering insight.
He also answered questions and made sure things ran safely.
As the owner of an appliance repair company, he's a big fan of robotics in general.
"As long as they enjoy what they're doing, that's the most important part," Roos said. "America is falling way behind in engineering, so teaching our kids STEM subjects is vital for our future. Plus, it's just good life skills to create something, or take something apart and put it back together."
Another person impressed at the build event was Overland Park dad Shawn Gaylord, who was at the event with his wife and two kids.
His 4-year-old son, Parker, was one of the car recipients.
Since the outgoing toddler has a gene deletion condition, he is developmentally delayed.
But he loves to be mobile, his dad pointed out.
"He wouldn't be able to control a normal car, so this is just great," he said, with a smile.
Like many others, he was wowed by the teenagers working hard on each car.
And as a parent, he was very grateful.
"Modifying these cars is a daunting task and you can just tell their hearts are in the right place," said Gaylord, an electrical controls engineer for Black & Veatch. "To do this kind of work at a young age is impressive."