Kings of the jungle: Shawnee brothers face off in Disney's 'The Lion King'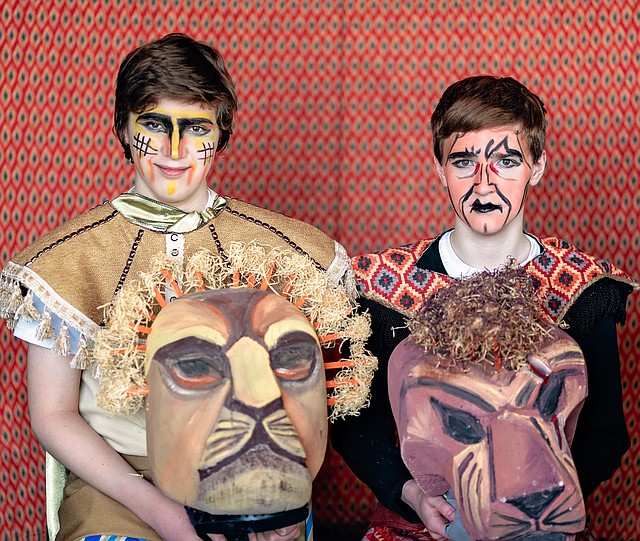 When it comes to the sibling animosity depicted in "The Lion King," Zion and Jonah Lang will be the first ones to tell you that life does not imitate art.
In the Christian Youth Theatre Kansas City production of the beloved Disney musical this week, the brothers will be playing brothers.
Zion, 14, was cast as the kind-hearted, majestic Mufasa, who is King of the Pride Lands. His younger brother Jonah, 13, was cast as the younger lion brother, Scar, a relentless and ruthless villain.
The two have intense fight scenes and Jonah even gets to sing an entire song about how much he wants to end his brother's character's life.
While the two may seem antagonistic on stage, the reality behind their relationship couldn't be more different: they're actually best friends.
"It's fun to pretend, but it's not what we're like in real life at all," Jonah assured the Dispatch. "We really don't want to hurt each other."
This isn't the first time the brothers have played archenemies.
Last fall, the Shawnee siblings faced off in the CYT production "The Legend of Pocahontas," in which Zion played the handsome and courageous John Smith and Jonah played the cold and calculated Captain Argall.
"Jonah got to blow me up during that show," Zion said enthusiastically, with a big grin. The two brothers laughed.
Zion and Jonah, who are homeschooled along with their siblings, have been in CYT productions for the past couple years.
Their two younger sisters, Evangeline, 11, and Eliana, 10, are also in "The Lion King," in ensemble roles.
Being in the show together has brought the siblings closer together, both boys said.
And as they all enjoy singing and dancing, community theater offers them a creative outlet.
Plus, it's a great way to make new friends.
The show features around 70 kids ages 8 to 14, which means Zion and Jonah are among the oldest.
'The Lion King' Shawnee cast members
The following Shawnee kids are in the upcoming CYT production: Adaela Amick, Harley Quinn Boehm, Paiten Griffith, Carter Harvey, Sadie Hunsaker, Samantha Hunsaker, Shelbie Hunsaker, Lily Jensen, Eliana Lang, Evangeline Lang, Jonah Lang, Zion Lang, Evan LeRoy, Kylie Marsh, Selah Smitley and Grady Thompson.
"I enjoy hanging out with the younger kids because I play Pokémon cards with them, which is something not a lot of other people my age like to do," Jonah said. "I try to go out of my way to talk to the younger kids in the show because I don't want anyone to feel left out."
Their mom, Morgan, is a huge fan of youth theater.
She's noticed that since her kids joined the shows, they've been more confident and upbeat.
Plus, not only is theater fun, but the activity teaches important life skills, she pointed out. Her kids are meeting people from different backgrounds, improving their social skills, learning to follow instruction, working in teams and recognizing the value of a community.
They're also pursuing passion.
"This is the time in their life where they're starting to figure out what they're good at," Morgan said. "It's important for kids to decide on their own what they want to do, beyond family or church."
Not only do the kids work hard during each production, but the adults involved do as well, she emphasized. After all, parents help with the costumes, makeup and other aspects.
"It's unbelievable the amount of work the parents are doing; everyone is trying their best to make the show come together," she said. "And the quality of the production goes above and beyond what you would expect from a children's show."
Her kids emphatically agree.
"It's going to be like the Broadway show," Zion said. "The music and story are great. It's going to be amazing."
His mom added, "It's an inspirational show. It makes you feel good. The songs are catchy; they just leave you feeling happy."
The entire Lang family is proud to be part of the CYT community.
They learned just how special it was last year, when things for the family-of-eight got a little rough.
Morgan's husband, a Lenexa firefighter, was injured; Jonah was hospitalized with a hernia and underwent surgery and on top of all that, Morgan also received spinal surgery after being diagnosed with a rare condition.
One of the CYT moms came over to help clean up their house, just to make their lives a little easier.
"It was such a sweet and kind gesture," Morgan recalled. "These are the kind of friendships you make at CYT. People genuinely care about each other. All of us, not just the kids, are growing lifelong friendships."
The Lang family hopes to be involved with CYT for many more years, especially as the younger family members, Shepherd, 7, and Nathanael, 2, get old enough to audition.
But for now, they're just excited to bring "The Lion King" to life.
Details about the show
"The Lion King" will run 7 p.m. Thursday; 10 a.m. and 7 p.m. Friday, 2 p.m. and 7 p.m. Saturday and 2 p.m. Sunday at the Bell Cultural Arts Center at MidAmerica Nazarene University, 2030 East College Way, Olathe.
Tickets range from $9-$13.
To purchase tickets, visit cytkc.org.