Outstanding 2018 graduate: Logan Dettmer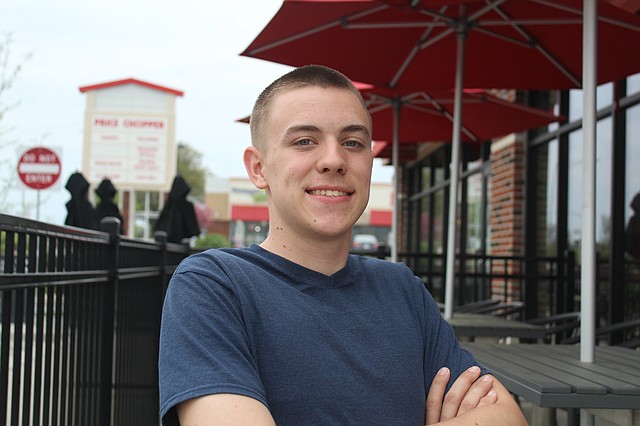 Name: Logan Dettmer
High school: Shawnee Mission North
Plans after high school: He is enlisted in the U.S. Navy nuclear engineering program; his service begins mid-July.
Activities: Naval Junior Reserve Officers Training Corps; Eagle Scout
Digging deeper: When Logan Dettmer entered high school, he was unsure what he wanted to do with his life.
Now, four years later, he's enlisted in the Navy.
He sets sail this summer. Well, metaphorically speaking.
In July, the Shawnee teenager will attend an intense boot camp in Great Lakes, Ill., and afterward, he will spend two years learning the intricacies of his new career.
From there, Dettmer will spend the remainder of his eight-year service as a nuclear engineer on a Navy submarine.
"It seems like an exciting environment and I like the culture," he told the Dispatch about why he enlisted in the Navy. "Everyone on the ship is a big family. They're out there on the ocean, working together and representing their country."
The 18-year-old's fascination with the Navy began his sophomore year of high school when he joined the SM North NJROTC program, which offers military-inspired curriculum.
As Cadet Commander, the number one rank in the program, Dettmer also participates in the NJROTC drill, athletic and academic teams, which compete across the country throughout the school year.
Last month, the SM North NJROTC earned seventh place in the Navy National Academic, Athletic and Drill competition held in Pensacola, Fla.
The achievement is impressive, considering 630 schools were entered in the competition.
The SM North NJROTC has gone to nationals for the past 12 years; it won the championship two years ago, when Dettmer was a sophomore.
His dream had been to help bring back that No. 1 title his senior year.
"We did the best we could, we worked hard and we still did pretty good," he said. "I was a little disappointed, but at the end of the day it doesn't matter because the lessons you learn are more important than a trophy.
"The lessons are what help you grow as a person."
Now that the NJROTC season is over and early morning practices are behind him, Dettmer jokes he gets to "sleep in" until 7 a.m. now before school. But the reality is he will still wake up at 5 or 6 a.m. to keep his military mentality in tact.
He isn't the only member of his family waking up at the crack of dawn.
His dad is a lieutenant colonel in the Army Reserves who has served his country for more than 20 years.
A couple months ago, his dad was deployed to the Middle East and he is expected to remain there for the rest of the year, which means he will miss his son's high school graduation on May 16, plus his departure for boot camp.
"Defending our country is what he signed up for and there's a sacrifice," Dettmer said. "We're not the only family going through it and we know it's for a better cause. We grew up understanding it."
As he prepares to follow in his dad's brave and honorary footsteps, Dettmer admits life after high school graduation almost doesn't seem real.
"It hasn't hit me yet that I'll be graduating and leaving home," he said. "It's going to be rough being away from my family, but I'll get through it because I watched my dad get through it."
And although he's a bit sad, he's definitely excited.
After all, it's going to be an adventure.