Becky Bieker goes on 'journey' of a lifetime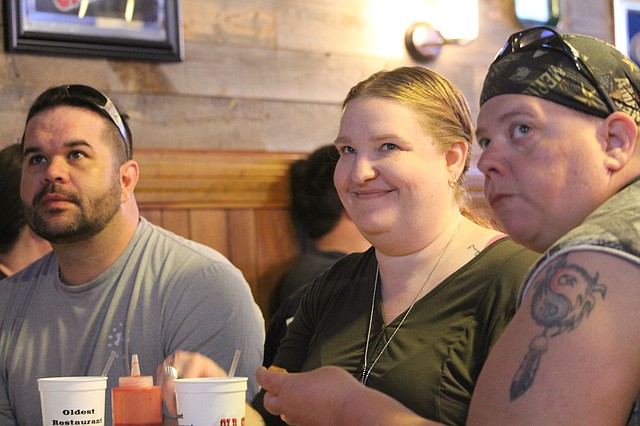 She could breathe again.
Hundreds of miles away from "real life," Becky Bieker allowed herself to be enveloped by the tranquility of secluded wilderness. All she had think about was the wind on her face and the thrill of hunting wild boars, an activity that has been on her bucket list for years.
And for the past two Monday afternoons, audiences around the nation watched Becky live out her dream.
The Shawnee resident appeared on two episodes of "The Journey," an Outdoor Channel show in which host Dave Watson travels coast to coast, knocking on the doors of deserving people and surprising them with a fishing or hunting adventure.
Bieker was surprised at the Shawnee police station.
When she walked into the conference room and saw many of her friends and family standing around, she knew something was up. When the camera crew appeared with Watson, she was floored.
"It didn't seem real at first," she said. "I understood the words being said, but they didn't sink in."
Her genuinely shocked and ecstatic smile warmed the heart of Chad Stevens, her best friend who nominated her for the show.
"Seeing her face light up made my day," he said. "It lifted her spirits."
The trip came at a poignant moment in Bieker's life. She was whisked away on her adventure days before the sentencing for the final man who killed her husband.
It offered a glimmer of hope before closing a devastating chapter in her life; a chance to have peace and clarity before moving on.
The past few years have been heartbreakingly difficult for the hunter.
In January 2015, during an attempted robbery of her former downtown Shawnee gun store, "She's a Pistol," a shootout led to the death of her husband, Jon. Bieker was also injured during the tragic incident.
Four suspects have now been sentenced to life in prison, with no chance of parole for 25 years, for the deadly shooting.
Bieker, who co-owned "She's a Pistol" with her husband, tried to keep the popular gun store afloat after his death, evening moving its location to Shawnee Mission Parkway and Quivira Road. But with the financial burden of her legal expenses, she couldn't remain open and officially closed its doors at the end of 2016.
Stevens, who has known Bieker since high school and also worked at "She's a Pistol," told the Dispatch he has always been impressed by her passion for wanting to help others learn to stay safe and protect themselves.
When he discovered her dream had always been to go boar hunting, he nominated her for the show.
At 4 p.m. on May 7, Bieker held a watch party for her first episode of "The Journey" at Old Shawnee Pizza. Her friends, family and even Shawnee Mayor Michelle Distler showed up for support.
During her outdoor adventure, which took place at Lay Properties in Oklahoma, Bieker bagged five wild boars.
"It was gorgeous," she said. "It was dead quiet. All you hear out there are the tree branches and the birds. It was so peaceful."
But she admitted watching the footage was bittersweet. The trip not just for herself, but for Jon's memory as well.
After all, boar hunting was something the two had been planning to do together one day, but their busy lives always got in the way.
"At various points throughout the trip, I really wished he was there," she told the Dispatch. "I think he would have had a blast. I think he would have been really proud of my success."
Her friends at the watch party were thrilled to see her big adventure.
Vince Rodriguez, a longtime friend to Bieker and her husband, said he couldn't think of anyone more deserving for the show and he was happy to see her rewarded because she gives so much to the community.
The Merriam resident has watched Bieker keep her head held high for the past few years and her composure in the midst of heartbreak never ceases to impress him.
"She's been at every single one of those hearings because she's not going to let them win," he said.
Stevens agrees.
"She's awesome and I don't know anyone stronger than her," he said.
Now that the court trials and hearings are behind her, Bieker is looking directly towards the future. She's looking into starting her gun training and classes again. And maybe someday, if she meets the right business partner, she'll pursue opening up another storefront.
She'd love to go boar hunting again with a group of friends in the future.
After all, she will never forget her outdoor adventure.
"It was the experience of a lifetime, not just because of the hunt, but because it was good to get out and get fresh air and escape for a little while," she said. "It was such an unexpected and thoughtful and sweet gesture. I want everyone to know how much I appreciate the experience."
"The Journey" appears on the Outdoor Channel at 4 p.m. on Mondays.
Bieker's episodes will be replayed throughout the rest of the week. To see the schedule, click here.