SMNW

's Pham 3rd in singles at 6A boys tennis state tournament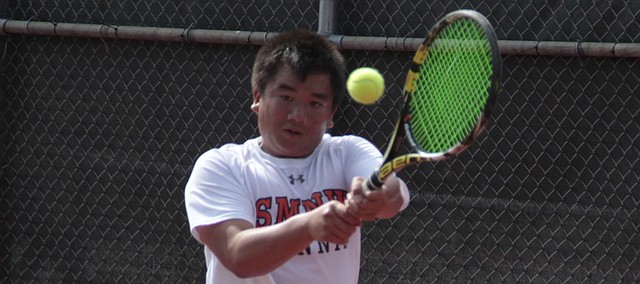 TOPEKA — Shawnee Mission Northwest junior Nam Pham took a record of 25-0 into the Class 6A boys tennis state tournament over the weekend at the Kossover Tennis Center, but he knew he'd have to be at his best in order to become a state champion.
Pham coasted to a 6-0, 6-0 win over Blue Valley Northwest's Pennington and a 6-2, 6-4 victory over BV North's Gupta on Friday to clinch his spot in Saturday's semifinals. Awaiting Pham in the semifinals was BV West junior Rafa Serra, who won the 2017 state doubles title with his brother Bruno Serra. Bruno was in action in the other semifinal against Manhattan freshman Dan Harkin, who also was undefeated at 21-0.
Pham took the first set against Rafa, but went on to suffer a 3-6, 6-4, 6-2 loss to the BV West standout.
"My defense was there, but obviously my offense wasn't," Pham said. "He was playing incredible as well. I just didn't have what it takes to do it today."
Saturday wrapped up Pham's first season with the Cougars. Although Pham wanted to win a state title for his school, he enjoyed the atmosphere of his first state tournament.
"I think that the crowd definitely helps you," Pham said. "This tournament is just about taking your school to the top, and obviously I couldn't do that today."
Blue Valley West ended up winning the 6A state crown with the Serra brothers leading the way. Bruno rolled to a 6-2, 6-1 win over Harkin before defeating Rafa, 6-3, 6-3, in the championship match. The Jaguars edged SM East by two points to win the state title.
Pham guided SM Northwest to a three-way for sixth in the team standings after upending Harkin, 6-3, 6-0, in the third-place match. After falling just short of his goal of a state title, Pham is motivated to elevate his game over the summer.
"I have a Level 2 national at The Plaza and then some section tournaments in Nebraska and at The Plaza again," Pham said.
Anthony Gao and Pierce Mitts also made their first appearances at the state tournament. Gao and Mitts rolled to a 6-2, 6-2 win against Garden City's Daniel Chacon and Brian Carrera in the first round. The Cougars then met eventual doubles champions Brent Fallon and Alex Downing in the second. The BV Northwest No. 1 doubles team topped Gao and Mitts, 6-0, 6-1. Mitts and Gao rounded out the tournament with a 9-8 (10-8) loss to Derby's Clayton Simmons and Daniel Dunn.
More like this story