JCPRD

offers fun-filled weekend events coming up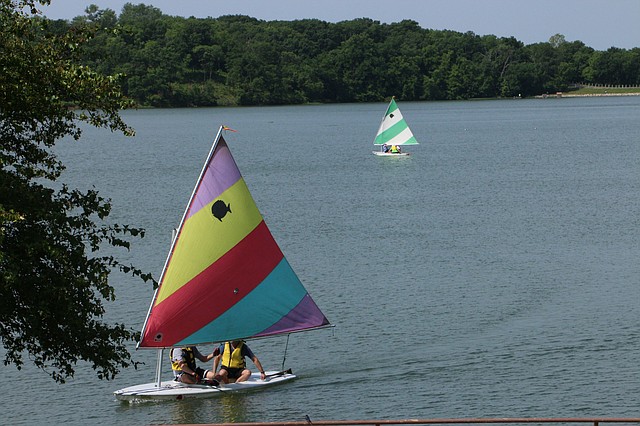 Johnson County Parks & Recreation District has several events coming up in the Shawnee area.
They are as follows:
The Artisan's Expo on Saturday
Come find a one-of-a-kind gift for that new graduate or purchase a special work of art to add to your home while supporting area artists during The Artisan's Expo, which is set from 10 a.m. to 4 p.m. Saturday in Antioch Park, 6501 Antioch Road, Merriam.
This annual vendor marketplace full of local, professional artists, and makers eager to share their work with you is held in conjunction with the city of Merriam's Turkey Creek Festival.
Other festival events include a pancake feed, a 5K run & walk, main stage concerts, a petting zoo, children's activities, specialty food vendors, and live music.
"Come Sail With Us" on Saturday
All sailors and sailing enthusiasts ages 18 and older are invited to join the Johnson County Sailing Society for a special event on Saturday at Shawnee Mission Park Lake, 7900 Renner Road, Shawnee.
This free event is called "Come Sail With Us."
It will take place beginning at noon at the Shawnee Mission Park Marina on the north side of the lake.
Participants should bring a sack lunch and dine with Sailing Society members and the recently-completed Sailing I class.
Following lunch, participants will be able to take rides in the personal vessels of society members while they take part in water activities such as mock races or a sailing scavenger hunt.
While this is listed as a one-hour event, organizers said it will continue until everyone who has shown an interest has an opportunity to take a ride.
This event is dependent upon favorable weather.
Another "Come Sail With Us" event is scheduled for July 28.
For more information, or to participate in Johnson County Sailing Society races, please contact Nick Hockman at 913-268-5683.
Free Johnson County museum day June 2
Celebrate National Trails day on June 2 with a free visit to the Johnson County Museum.
If you haven't experienced the museum in its Metcalf location - or even if you have - come enjoy the museum, including the 1950s All-Electric House, and the 2,500 square-foot main exhibit titled "Becoming Johnson County," featuring more than 400 objects, and more than 500 photographs.
The KidScape experience is a 3,500-square foot area of the museum which lets kids learn about the past through three unique communities.
There's an 1870s farmstead, a 1900s city, and a 1950s diner.
A special temporary exhibit called "Let's Celebrate - Johnson County Museum is 50" will be in the museum's changing exhibit gallery through Aug. 4.
It celebrates 50 years of collecting with the museum.
The Free Day at the Johnson County Museum is a seven-and-one-half-hour drop-in event which will take place from 9 am to 4:30 p.m on Saturday, June 2.
Pre-registration is not required.
The Johnson County Museum is located at 8788 Metcalf Ave., Overland Park.
More like this story