Shawnee-based youth football league offers 'high school' experience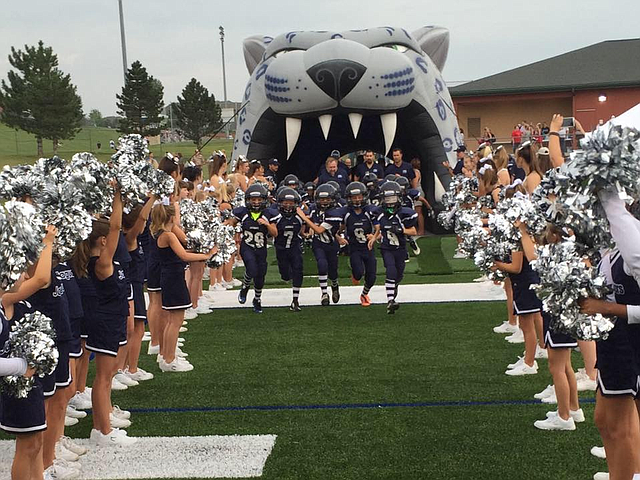 Some kids dream about playing football under the bright lights of a high school stadium.
Now, thanks to Champions Football KC, that dream can come true.
The Shawnee-based organization offers the exciting opportunity for youth football games to be held on high school turf fields across the metro area.
"While there may be other fine league options around, I dont know of any that play all games on turf," said Jeff Broadbent, director. " By doing this, it does allow us to bring these games back into our own communities where we hope to see some of these same kids eventually competing as high school student athletes."
Champions Football KC originated several years ago as a few local guys in the Blue Valley High School area who formed the Blue Valley Football Club with the concept to allow youth football teams and cheer squads to perform in their own communities.
In 2016, it officially became Champions Football KC, an organization with a five-member board consisting of representatives from various football and cheer associations.
The youth football league allows football coaches, or complete organizations, to join for a season that consists of an eight game schedule. It includes both flag and tackle divisions.
Seven-man flag is offered as three separate grade divisions: Kindergarten-first, second-third, fourth-fifth.
Tackle is offered to second through sixth grade teams.
Cheer is determined by individual organizations, but also ranges from kindergarten to sixth grade.
Champions Football KC is a member of both USA Football NFL Flag and Heads Up Football programs.

All coaches are required to pass online certifications.
So far, the organization has used Mill Valley, De Soto and Olathe West high schools on the Kansas side and William Chrisman and Lee's Summit high schools on the Missouri side.
By adding complete teams and additional football organizations, it will continue to opening additional game sites.

This season, the Piper High School area joins it as a complete youth football and cheer program. Champions will utilize its turf field this year for league games as well and it brings numerous football teams, as well as a cheer program with near 125 cheerleaders.
The youth football league is also continuing talks with several other Kansas City area schools.
"Champions Football KC is good for many of our communities because we do compete in several locations instead of a single location that may or may not be convenient for all teams and families," Broadbent said. "The fact that we use these high school sites gives us ample free parking in high school parking lots. It gives our players' biggest fans, who never pay an admission charge to watch their players compete, much room to sit in the grandstands at these fields. Cheerleaders perform on the track directly behind the teams they support. And yes, we do often have that late game where these kids play under the lights, just like their 'Friday Night' heroes."
Coaches of an established team who are looking to participate should email championsfootballkc@gmail.com or visit championsfootballkc.org.