Shawnee teen strives for Eagle designation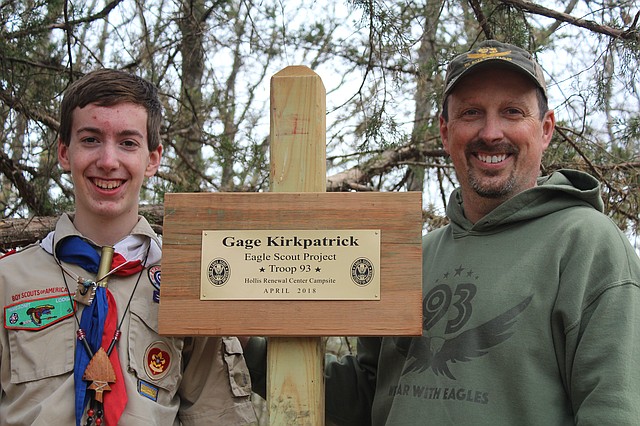 Deep in the woods, there's a campsite with Gage Kirkpatrick's name on it.
Literally.
The Mill Valley High School freshman recently completed his Eagle Scout project in which he built a 30-foot-wide campsite with a campfire, wood crib, tent area, and benches.
Before they could even begin construction, Kirkpatrick and his team spent hours sawing down 30 trees and heavy brush.
The campsite is now the third one at Hollis Renewal Center in Kansas City, Kan.
The center is 153 acres of secluded woodland used primarily by church groups and scout troops.
In the midst of completing his project, the Shawnee teenager's dad, Rich Kirkpatrick, took him aside for a special unveiling of a wooden post featuring a plaque with his name on it.
"Gage has learned a lot and he's grown a lot," said Rich, emotionally. "He's learned to be a leader and I'm so proud of him."
Earning his Eagle Scout designation has been a goal of Gage's since he started scouting as a kid.
The program has allowed the 15-year-old to learn new things, such as how to cook in a Dutch oven or how to shoot a rifle.
Plus, he loves camping.
Only four percent of Boy Scouts are granted the Eagle rank.
Gage, who is in Troop 93, acknowledges the process is not an easy one.
"I've worked really hard to get where I am," he said. "It would be nice to have something to show for it."
When his dad took him to Hollis to show him around, Gage knew it was the perfect spot for his project. After all, as an avid camper, he saw an immediate need for an additional campsite there.
"It's pretty peaceful here and a good place to camp," he said. "It's secluded; there's an easy trail."
In addition to several of his fellow scouts, Gage's family and even professional landscapers took his direction.
Jerry Boresow, the scout leader for Troop 93, proved to be a valuable asset. The owner of a Shawnee-based lawn and landscaping business, he brought out a few of his guys to help with the heavy labor.
"I have a lot of equipment they sometimes need and its important for me to help out these Scouts," he said. "Gage has been a good leader and this is a great project. This (campsite) will be here for years for a lot of people to enjoy."
And thanks to his dad, Gage's name will be there too.