Shawanoe Elementary students break ground on community garden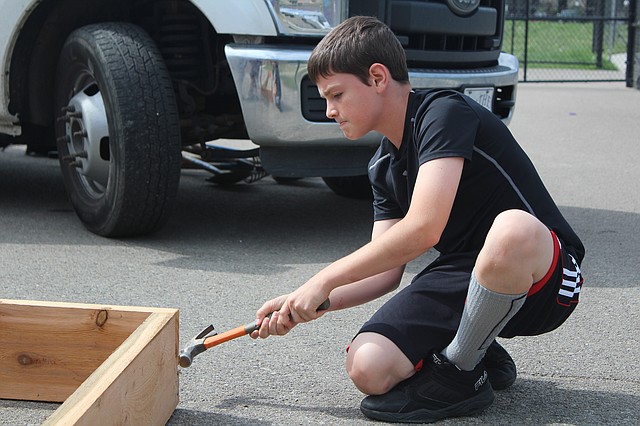 On a sunny Tuesday morning last week, dozens of Shawanoe Elementary School sixth graders hammered nails, hauled dirt and pushed around heavy wheelbarrows.
The best part? It was their idea.
Six months ago, after their class read a story about sustainability, the students brainstormed ways they could help make Shawanoe a healthier and greener community.
The winning idea was a community vegetable garden, with the produce going straight to Shawanoe families.
On May 15, they put their plan to action by constructing and placing two large beds near the school's playground.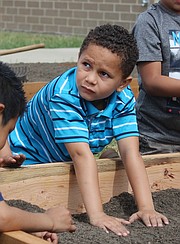 "It's amazing," said their teacher, Cassandra Parkinson. "What's really cool is to see they had an idea and they saw it come together from beginning to end."
When she first heard about their idea a few months ago, Shawanoe kindergarten teacher Crystal Brower was so impressed, she secured a $250 grant from the Garden Club of Shawnee, which helped cover most of the garden's costs.
The school partnered with Kansas City Community Gardens to purchase affordable building materials, garden tools, dirt, weed protection and seeds.
While the sixth graders worked outside, Brower brought her kindergarteners to observe and help spread the dirt.
"They know they go to the store to get food, but now they're learning you have to plant it and grow it and pick it," she said. "It's a valuable lesson."
It's insight even the older kids are picking up as well.
"I heard one of my kids say he'd never held a rake before today," Parkinson said. "For many, this is their first time gardening; their first time seeing where food actually comes from."
Constructing the beds and getting them ready for planting was the first and final aspect of the project for this year's sixth-graders, however.
When school starts back up in August, the new class of sixth graders, and also fifth-graders, will plant seeds in the beds and tend to the gardens.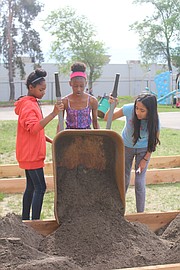 "It was a lot of fun and I wish we could be here to help with the garden next year," said Seneca Rose, a sixth grader. "I'll probably stop by anyway just to see how it's growing."
Her friend, Ziarre Majeed, agreed. Much to her delight, her little brother, a first-grader, will one day be part of the project she helped create.
"I'm really glad he gets to help turn it into something special," she said.
Both girls told the Dispatch they are proud of the work their class has accomplished and they're thrilled to have made their mark on Shawanoe before they go to middle school.
"It's a good feeling to know you're helping the environment and community by taking one small step," Seneca said. "We're excited we got to participate and I hope the garden will be here for many years to come."