Two relay teams medal for St. James at 5-1A state swim and dive meet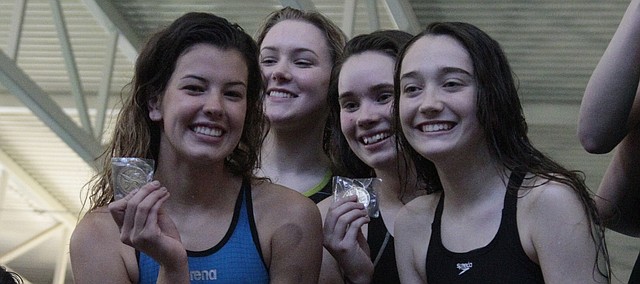 TOPEKA — The anxiety level was already elevated for St. James Academy junior Andrea Curnes while competing at the prelims of the Class 5-1A state swim and dive meet on Friday at Capitol Federal Natatorium, and it got even higher when the tech suit that was supposed to propel her to faster times ripped.
While Curnes was without her favorite suit on Friday, adrenaline kicked in for the St. James junior as she teamed up with senior Allison Coens, freshman Jane Grant and junior Audrey Jones on the Thunder's 200-yard medley and 200-yard freestyle relay teams. The Thunder posted season-best times in the prelims, and swam even faster when Curnes had her tech suit back in Saturday's finals. The 200 medley relay finished fourth, while the 200 free relay took seventh to lead the Thunder to ninth place in the team standings.
"That was so awesome. For me personally, I was having an off-day on Friday when my tech suit ripped in the morning," Curnes said. "So I think going into Saturday we were all just feeling a little more confident — especially knowing we would get points for being in the top eight anyway. It just set our minds at ease a little bit and I think we all had more fun not feeling as much pressure. We were just happy to be there."
After having a season-best time of 2:05.58 going into prelims, Grant, Coens, Curnes and Jones clocked in at 1:56.84 in the finals to get the first of their two state medals. The Thunder followed that up with a time of 1:47.46 in the 200 free relay.
"We were all super excited about how we placed especially considering we only had four girls swimming on Saturday," Curnes said.
Jones, Coens and Curnes were all in action in the 'B' final of at least one of their individual events. Jones placed 11th in the 50-and 100-yard freestyles with respective times of 26.14 and 57.38. Coens and Curnes finished ninth and 11th in the 100-yard breaststroke with respective times of 1:12.01 and 1:13.69.
"Again, I think it was the suit for me. Not so much actually having it, but I think it mentally was a kind of safety blanket," Curnes said. "I was really worried during all of my events on Friday just knowing I didn't have the suit I was supposed to have. Replacing it for Saturday just made me feel a lot more comfortable going into the breast so I could focus more on the actual race than on how I was nervous I was about my suit tearing or holding me back in any way. It was mostly in my head, but still calming to have."
Before the St. James 200 medley relay posted its fourth-place finish, junior Grace Naumann got the Thunder rolling on Saturday by taking 13th in the 1-meter dive with a score of 310.90.
Curnes is excited about the Thunder having a good nucleus to build around for next year with having three of the four members of the relay teams back along with Naumann in the 1-meter dive.
"It's really great knowing that we're going to have a strong team next year. Audrey and I were both a little worried coming into the season that we weren't going to be able to get a strong team together, but Allison improved so much during the season and so did Jane," Curnes said. "It's going to be really exciting to see how we all progress over the course of the year and to see where we're all at coming into next season. I think we're gonna do some big things."
St. Thomas Aquinas scored 289 points to win the state meet.