A walk to remember: Shawnee mom strives to make
NF

walk 'bigger and better'
On Thursday, the water pouring out of the downtown Shawnee fountain turned a vibrant shade of blue.
That same evening, the KCP&L building in downtown Kansas City, Mo. twinkled blue against the skyline.
Both splashes of color on both sides of the state line were in honor of World NF Awareness Day, which was May 17 this year.
While the gestures may seem like a passing novelty to some people, they're significant to one Shawnee mom.
When Hannah Duby's son was diagnosed with neurofibromatosis a year ago, it seemed like her world had turned upside down.
In addition to being blind in his left eye, Eli has tumors on his spine and bilateral tumors on his acoustic nerves, which could lead to partial or complete hearing loss and balance issues later on, as well as numerous other complications.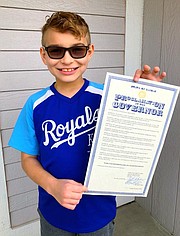 The Clear Creek Elementary third grader recently underwent his first NF related surgery in March, to remove a tumor in his neck which was pressing on his spinal cord.
Although the condition might bring anyone down, Eli's positive attitude remains untouched. The outgoing 9-year-old is the rock of his family, which includes his parents and two older sisters.
"His personality is so special," Duby said. "He was cracking jokes in the hospital. He helps us get through."
Inspired by her son, Duby is organizing Kansas City NF Walk this year.
It takes place at 10 a.m. on Sept. 22 at Penguin Park in Kansas City, Mo.
Last year, with 240 participants, the walk raised $20,000. The proceeds benefited the Children's Tumor Foundation to help fund critical FN research for better treatments. This year, it will do the same.
"Last year exceeded all my expectations," Duby said. "This year, we want to make it bigger and better."
Funding for the Children's Tumor Foundation is so critical because currently, there is no cure for NF and there are also no effective treatments.
Although the number of people NF directly affects is small in perspective, the ripple effect is huge.
NF affects one in every 3,000 people, which is more than cystic fibrosis, Duchenne muscular dystrophy and Huntington's disease combined.
But NF research is also shedding light on several forms of cancer, brain tumors, brain abnormalities, and learning disabilities.
It's a condition that can arise in any family, regardless of race or gender, said Duby.
Fifty percent of NF cases are genetic, while the other 50 percent is by chance.
When Eli was diagnosed with NF, his parents underwent genetic testing to see if it ran in their families.
The results came back negative.
"It's a rare genetic condition that needs more awareness and more research," said Duby, a nurse. "That's the only way we're going to make a difference."
So far, the recognition for NF awareness this month, and on Thursday, has meant the world to Duby and her family.
They have received proclamations from the cities of Shawnee and Kansas City, Mo. declaring May 17 as NF awareness day; they have also received proclamations from the states of Kansas and Missouri proclaiming May as NF awareness month.
There are also a couple events coming up to raise awareness and funding for research.
From 5-10 p.m. on May 29, McAlister's Deli, 11330 Shawnee Mission Parkway, will donate 20 percent of its proceeds to the Children's Tumor Foundation if at least 20 people participate.
Also, from 7-8:30 p.m. on June 6, Hamburger Mary's, 3700 Broadway Road, will have its bingo proceeds benefit the foundation as well.
For more information about NF, visit ctf.org.