Maranatha boys 4x400 relay breaks school record, takes 3rd at state meet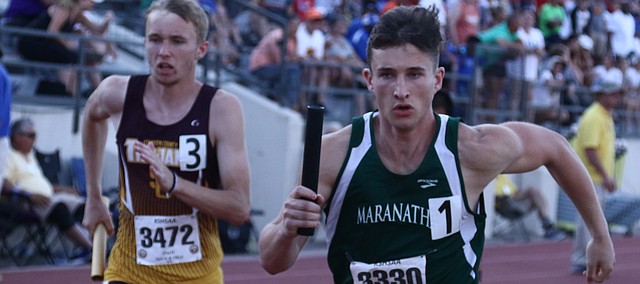 WICHITA — When Maranatha Christian Academy senior Mitchell Peacher received the baton in the 4x400-meter relay finals of the state meet on Saturday at Wichita State's Cessna Stadium, it wasn't easy for him to comprehend what his teammates — Jax Holland, Brock West and Blake Knight — had done.
Peacher was the lone true 400-meter runner on the relay, yet the other three members of the Eagles' 4x400 had put him in position to do something special. Peacher went on to do his part to ensure that that special something would happen, as the Eagles broke an MCA school record with a third-place time of 3:29.67.
"He (Holland) is a jumper," Peacher said. "He (West) is an 200 runner."
Knight chimed in, "I'm 800 and up."
Peacher concluded, "It's just crazy that we can go out and do that."
The Eagles qualified for finals by placing seventh in Friday's prelims. The school record and running faster than prelims were far from the only motivational factors that West needed to get in the right mind-set for finals.
"We (Holland and I) were doing it for these seniors (Peacher and Knight)," West, who also finished with an 11th-place time of 23.61 in the 200, said. "It was their last race. We gave everything for them and the glory of God."
The 4x400 accounted for one of Holland's two third-place medals. Holland placed third in the long jump with a leap of 21 feet, 6.25 inches.
"I was pretty happy," Holland said. "Going into state, I wasn't even thinking about doing long jump. My coach just kind of put me in it at regionals."
The two third-place finishes helped the Eagles tie for 19th place with 12 points.
4x100 relay leads MCA girls
The Maranatha girls team had two relays and two individuals in action at the state meet.
The Eagles' 4x100 team of Allison Dighton, Aaliyah Buckner, Grace Wojcik and Phoebe Hines placed 10th with a time of 52.39. Gina Favero, Audrey Knight, Savannah Shiner and Wojcik added a 15th-place time of 11:12.95 in the 4x800.
Hines clocked in at 13.25 to take 12th in the 100, while Wojcik took 15th in the 300 hurdles with a time of 52.42.