Shawnee martial arts business focuses on empowerment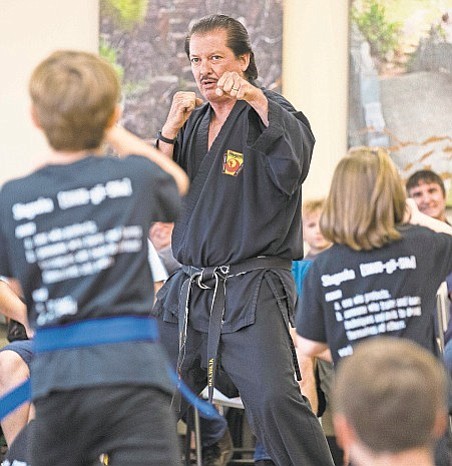 Personal protection is a top priority at Shugosha Contemporary Martial Science.
The business, 11925 Johnson Drive, offers classes in karate, JuJitsu, self-defense and gun-training.
It also offers youth self-defense training.
"We get to watch people change during their training," said owner John Albillar. "You find the best version of yourself during this process and it's extremely rewarding. We see kids who are shy come out of their shell. It changes their life."
Albillar and his wife, Sharon, opened Shugosha near Johnson Drive and Quivira Road four years ago, but the business itself began 10 years ago in their Shawnee basement.
Albillar gave up a real-estate career to pursue his dream of making martial arts a full-time job. He's been passionate about martial arts since he was a teenager; he became serious about it as an adult.
When they got married a decade ago, Sharon, a graphic artist, convinced her husband to follow his heart. Soon, they had so many students, they could no longer offer training out of their home.
Sharon credits a spirit of camaraderie within the Shugosha community.
"The environment is very empowering," she said. "Everyone lifts each other up; everyone helps everyone else learn."
Plus, it has become reputable for empowering women.
Half of Shugosha's black belts are women.
"That fear women live with daily dissipates the more often you train," Sharon said. "You're aware of what's going on around you. It makes you more confident in the world."
The business currently has a couple hundred students and it's doors are always open to welcome new ones.
Shugosha will also be expanding this summer. Soon, it will begin construction on taking over the space next door, adding an additional 1,000 square-feet for more training space.
If you're interested in learning more about adult classes, visit shugosha.com.
If you're interested in learning more about youth classes, visit shugoshadragons.com.