New assistant city manager excited for the challenge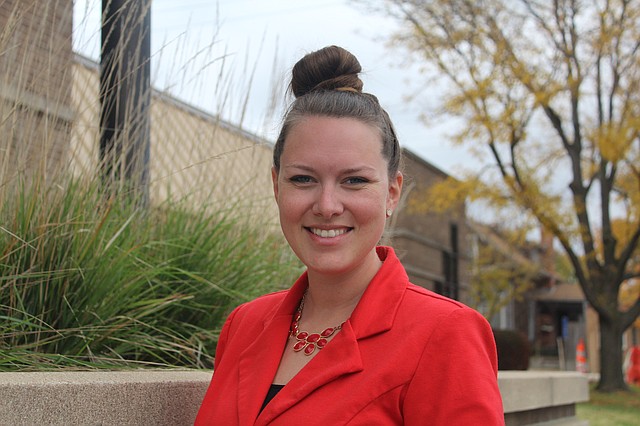 There's a lot going on in the city of Shawnee and new assistant city manager Caitlin Gard is excited to be a part of it.
Gard, who took over the position earlier this fall, recently sat down with the Dispatch to discuss her promotion and her love for city government.
When Nolan Sunderman was bumped up from assistant city manager to city manager earlier this year, Gard admits he left big shoes to fill. But, she's looking forward to making her own positive mark on the city.
The Lee's Summit native joined the city of Shawnee in 2013 and has filled several roles, including assistant public works director and strategic initiatives manager.
Being a public servant comes naturally to Gard, but she revealed to the Dispatch her current career stemmed almost accidentally from an unlikely source: the recession.
A little over a decade ago, she had her sights set on law school. While an undergraduate student at the University of Missouri, she was working as a paralegal at a law firm when the housing crisis took place. Working for a law firm that foreclosed on homes during that time period was stressful and draining, she said.
Wanting a career where she could help people and make a difference, a couple friends suggested she look into local government.
After graduating, she accepted an internship in the planning and development department for her hometown, Lee's Summit.
"There was so much going on, with new build and a boom in growth," Gard said. "Seeing the outcome of my work right before my eyes was rewarding. It felt great to know I was helping the city become a better place—especially since its where I grew up."
While working in Lee's Summit, she received her Master's of Public Administration degree from the University of Missouri-Kansas City.
Six years ago, she moved her career to the city of Shawnee.
The transition was an easy one for Gard, since the two cities are similar in nature.
Both have deep historical roots and a diverse population featuring families who have lived there for generations, along with a continual wave of new residents.
In fact, Gard has fallen in love with the city of Shawnee so much, she recently moved to the western part of town with her husband and two-year-old daughter. Baby number two, a boy, is expected to join the family in February.
She loves the small-town feel of Shawnee, with its family-friendly events, such as the Scarecrow Festival and Old Shawnee Days.
"You can really see how happy everyone is here and how much they love Shawnee," she said. "It rubs off on you. Shawnee is almost exactly like where I grew up and I really appreciate that aspect of it."
With a baby on the way, a new house to decorate and her new job, Gard has a lot on her plate. Fortunately, she thrives when she's busy.
Being the assistant city manager has kept her on her toes. She works on projects involving everything from budgeting to waste management services.
The next year will be a busy one for the city of Shawnee in general. The Nieman Now project will soon be wrapping up, major updates are occurring at Shawnee Town 1929, a community center proposal will be put to ballot and the city will be embarking on the largest mill-and-lay program its ever done.
Starting next year, Gard will also be helping the city of Shawnee implement a city-wide strategic plan, which the city as a whole has never done before.
In January, the process will start and as it progresses, it will include city council and public input.
Gard is energized for the tasks because the variety of work is why she loves her job. She wouldn't have it any other way.
"At the end of the day, solving problems and helping people make sure their lives are better is why I'm here," she said, with a smile.