St. James junior Max Kalny named MaxPreps Semper Fidelis High School Athlete of the Month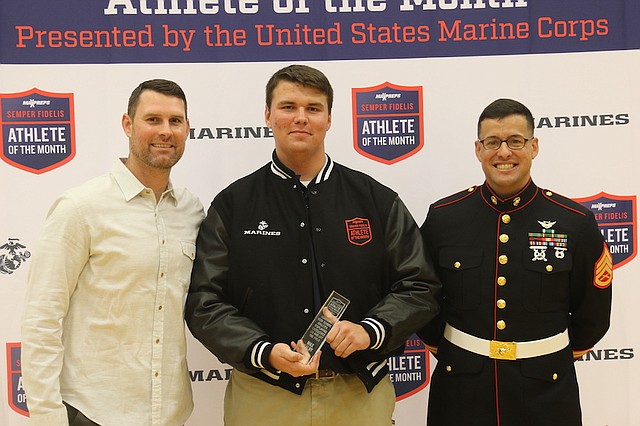 Lenexa — St. James Academy football junior Max Kalny was named the MaxPreps Semper Fidelis High School Athlete of the Month for September in an award ceremony Tuesday afternoon at St. James Academy.
Sgt. Blake Foster of the Kansas United States Marine Corps presented Kalny with the honor in front of a school assembly Tuesday. Kansas City Chiefs backup quarterback Chad Henne served as a special guest presenter during the ceremony.
"(The ceremony) was a little overwhelming. I really appreciate this. It is a phenomenal award. I'm speechless. I'm really, really excited to receive this," Kalny said. "I was a little nervous during the ceremony. I appreciate everything (MaxPreps) is doing with this award. It's phenomenal."
St. James football head coach Tom Radke talked about Kalny receiving the Athlete of the Month honor.
"(Kalny) is one of 20 people in the nation to win this award. He's earned it. A lot of people in the building may deserve the award, but when I tell people that (Kalny) won the award, nobody is surprised," Radke said. "That's a testament to the type of person he is. I'm really proud of the way he handles himself on and off the field. He's a great football player on top of (being) a great person."
MaxPreps selects one female and one male athlete each month to receive the honor. Athletes, parents, coaches, and teachers have the opportunity to nominate athletes to be recognized. MaxPreps, with the assistance of the Marines, selects the most well-rounded athletes that embody the character traits of the United States Marine Corps.
"I nominated (Radke for the award). I saw it online and nominated him for it. He wrote an essay. He blew (MaxPreps) away with the essay, and they researched him and talked to him a little bit about what kind of person and athlete he was. He fit the bill for what they were looking for," Radke said.
Kalny is also active in the community outside of school. He devotes one Saturday per month to volunteer with BREATHE, an organization that serves people five years or older with disabilities, and gives their caretakers a small break.
Kalny talked about the honor of receiving the award.
"I didn't quite understand what I had got the first time I heard about it, and I didn't know the level of how important this is. I can't believe it. I don't know if I can fully comprehend what's going on, but it's an insanely big honor for me," Kalny said.
Kalny talked about being able to meet Henne Tuesday.
"It was crazy. You see (professional athletes) as being these gods. He's just another guy. He's a great guy. I talked to him for a little bit. He's a nice person. I really like that," Kalny said.
Henne talked about how he became involved in Tuesday's ceremony.
"My agent contacted me (about the opportunity). They reached out to me and asked me if I would present this award, and I said 'absolutely.' If I were a kid in his position, I would do the same thing. I would love for a professional athlete to come out and show support," Henne said.
Henne mentioned a few things he had learned about Kalny.
"He seems like a phenomenal kid. He's outgoing. He's a straight-shooter. He seems like he has his head on his shoulders. He's definitely deserving of the award," Henne said.
Kalny's season ended Nov. 2, when his team fell on the road at Mill Valley High School in the Regionals round of the playoffs by a score of 7-24. Kalny talked about his approach heading into his senior season.
"I'm just trying to make sure my team can get as far as it can. I'm shooting for a State championship. That's the main goal. If I can do stuff in college, I'd love to, but right now I'm focusing on getting the whole team in the weight room to get ready," Kalny said.
Radke talked about what he envisions for Kalny in his senior year.
"The sky is the limit for (Kalny). He's a really good football player. He's really good at rugby and basketball (two other sports that Kalny is active in)," Radke said. "He does really well academically. He's looking (to apply to) Ivy League schools, like Stanford and Notre Dame. With his humbleness and the way he approaches life, he's going to do great things for this country."