LGBT

Native American Democrat wins Kansas 3rd District House race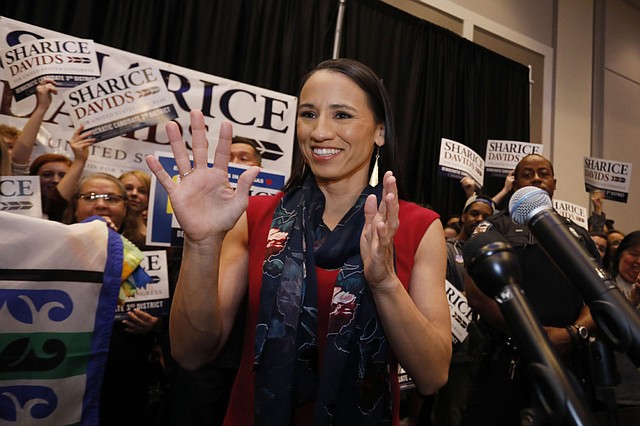 TOPEKA — Democrat Sharice Davids unseated Republican Rep. Kevin Yoder in Tuesday's election to become the nation's first LGBT and Native American woman in Congress.
Four-term incumbent Yoder was vulnerable in the Kansas City-area 3rd District because of tepid support for President Donald Trump, who narrowly lost it in 2016. The district includes a mix of fast-growing bedroom communities, established suburbs and poorer city neighborhoods.
Trump had endorsed Yoder, the chairman of a House Appropriations subcommittee on immigration and homeland security issues.
Davids excited Democratic activists and donors nationwide with her unprecedented profile. A member of the Wisconsin-based Ho-Chunk Nation, she was a White House fellow during former President Barack Obama's administration and received a law degree from Cornell University. She's also fought MMA (mixed martial arts) bouts.
Her campaign upended conventional wisdom that Democrats have the best shot at winning the GOP-leaning district with a centrist candidate such as Dennis Moore, the Democrat who held the seat for 12 years before Yoder won it easily in the anti-Obama wave of 2010.
Yoder did much of what would be expected to keep his job, raising more than $3.8 million for his re-election. He touted the endorsement of Kansas political icon and 1996 Republican presidential nominee Sen. Bob Dole and picked up the backing of local mayors, law enforcement officials and groups such as the Kansas Farm Bureau.
But he was one of 25 incumbent Republicans running in a district Trump had lost.
Yoder's subcommittee chairmanship put him at the center of the debate over immigration. He picked up Trump's endorsement after Republicans proposed setting aside $5 billion that could be used to help build a wall along the U.S.-Mexico border.
He drew criticism from the left, which argued that he didn't do enough to help stop the separation of immigrant children from their parents when families attempted to enter the U.S. illegally. And he was attacked on the right when appropriations legislation allowed more legal immigration.
Davids also struggled with the issue. When a liberal podcast host in July asked her whether she would support abolishing U.S. Immigration and Customs Enforcement, she answered, "I do. I would, I would." She recanted after winning a six-person primary race in August, declaring flatly in a television ad, "I don't support abolishing ICE."
But her stumble was a mere blip. She raised $4.3 million — most of it after mid-July, including more than $1.1 million after September — and emphasized the details of her biography. Davids was raised by a single mother-soldier.