City of Shawnee gets a new council member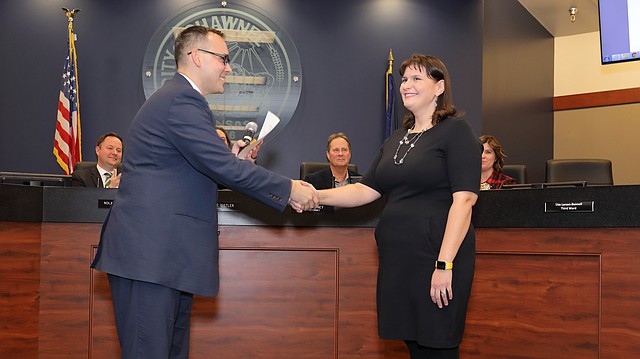 The city of Shawnee has a new council member.
At a special meeting on Tuesday evening, the city council appointed attorney Lisa Larson-Bunnell to fill the vacant Ward 3 seat, in a 5-2 vote.
Ward 2 council members Eric Jenkins and Mike Kemmling voted in opposition.
Larson-Bunnell was then sworn into office at the regular city council meeting following the special meeting.
The Ward 3 seat was left vacant in mid-September by former high school teacher Justin Adrian, who resigned from the city council shortly before he was arrested for unlawful sexual relations with a student.
The term for the seat is Jan. 2018 to Jan. 2022.
In October, the Shawnee governing body had decided to appoint someone to fill the vacancy until a special election could be held in conjunction with the fall 2019 election cycle, so Ward 3 residents could eventually vote on their own representative.
As a result, Larson-Bunnell will fill the position until Jan. 2020. The person who wins the 2019 fall general election for the seat will then complete the term until 2022.
In her cover letter to the council, the married mother-of-one stated she initially moved to Ward 3 in 1999 with her parents. After leaving for law school in 2001 and subsequently starting her career, she moved back to Ward 3 in 2012.
She currently serves as the associate counsel and compliance director at North Kansas City Hospital.
"As a regulatory attorney for a city-founded hospital, I must navigate state and local government regulations on a daily basis," she wrote. "I also have the privilege of working with people from a variety of backgrounds. As a compliance professional, my job requires me to work with diverse groups and develop ways to build the trust and unity that is needed to work towards a common goal. This is a skill that I believe will translate well into the role or councilperson."
She added that in the past two decades, she has watched Shawnee grow and she believes there is potential for more growth.
"I would be honored to have the opportunity to represent the constituency during this exciting time," she wrote.
Fellow Ward 3 Shawnee councilperson Stephanie Meyer is looking forward to once again having a second voice represent their constituents.
"Throughout this process, Lisa has demonstrated her passion for the community and a solid understanding of the issues important to our ward and the city as a whole," Meyer told the Dispatch. "She has displayed a logical, collaborative demeanor, and I look forward to working with her for the betterment of Shawnee."
Larson-Bunnell was one of 16 candidates who sought the Ward 3 council position.
Elected officials, such as Shawnee Mayor Michelle Distler, were impressed by the huge amount of interest.
After all, it speaks volumes about the dedication residents have for their community.
"It was very exciting to see that much interest and passion for the city and with such a diverse group," Distler told the Dispatch. "And really, the only qualification needed is passion for a great Shawnee. In all of my tenure we have never had that many people apply for an open position. I hope the candidates that were not chosen this time will stay engaged and involved in the city because there are so many ways to contribute."